RGS
Get flash to fully experience Pearltrees
I'm fairly new to the whole NoSQL game, and one thing I keep hearing is how great Cassandra is. Built by Facebook and open sourced in 2008, Cassandra is probably the most popular NoSQL implementation: "A massively scalable, decentralized, structured data store" . Cassandra takes it's distribution features from Dynamo and the data model from BigTable . Before we look at using Cassandra, we first need to understand the data model.
Cassandra is a hybrid non-relational database in the same class as Google's BigTable. It is more featureful than a key/value store like Riak , but supports fewer query types than a document store like MongoDB . Cassandra was started by Facebook and later transferred to the open-source community. It is an ideal runtime database for web-scale domains like social networks.
(Yes it's a long title, since people kept asking me to write about this and that too :) I do when it has a point.) While SQL databases are insanely useful tools, their monopoly in the last decades is coming to an end. And it's just time: I can't even count the things that were forced into relational databases, but never really fitted them. (That being said, relational databases will always be the best for the stuff that has relations .) But, the differences between NoSQL databases are much bigger than ever was between one SQL database and another.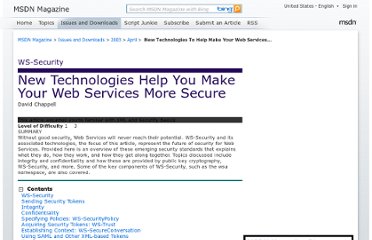 WS-Security New Technologies Help You Make Your Web Services More Secure David Chappell This article assumes you're familiar with XML and Security Basics