Sleep?
I've completed my first day on the polyphasic sleep schedule, napping for 20-30 minutes every four hours. It's been almost 36 hours since I last awoke from a full night's sleep.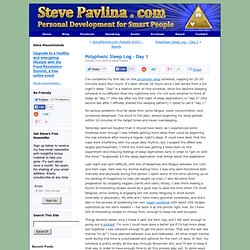 One long-term consequence of the polyphasic sleep experiments I did in 2005-2006 is that I still retain the ability to fall asleep very quickly. Enough time has passed that I suspect this is a permanent change. These days when I decide to go to sleep, I can typically fall asleep within 30 seconds or less.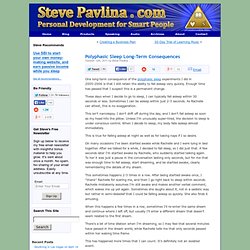 Polyphasic Sleep Long-Term Consequences | Steve Pavlina's Personal Development Blog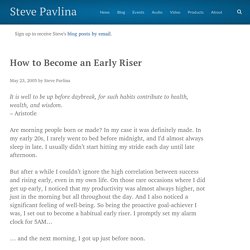 It is well to be up before daybreak, for such habits contribute to health, wealth, and wisdom. - Aristotle Are morning people born or made?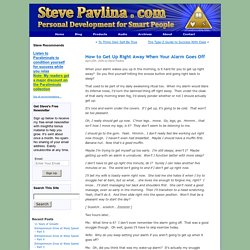 When your alarm wakes you up in the morning, is it hard for you to get up right away?
Last Monday's post How to Become an Early Riser obviously struck a chord with many people.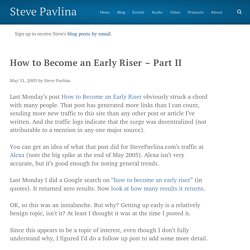 How to Become an Early Riser – Part II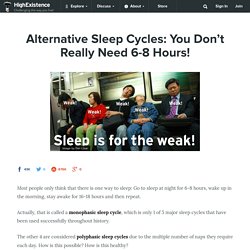 Most people only think that there is one way to sleep: Go to sleep at night for 6-8 hours, wake up in the morning, stay awake for 16-18 hours and then repeat.
I would guess that you'd have to be in good physical shape to start something like this; as lack of REM sleep is a root cause of heart disease and other ailments. It almost sounds like the sleep schedule can be just as brutal as a work out regimine! by quietmonsters Jan 29
Not sure what I think abouot this... by quietmonsters Jan 26