Recipes
Get flash to fully experience Pearltrees
Chad Robertson of San Francisco's Tartine Bakery & Cafe describes a starter -- a mixture of flour, water, wild yeasts, and bacteria -- as a baker's fingerprint. Making one is simple, but it does require a commitment: Count on feeding and caring for the mixture for three weeks before you start baking. For something closer to immediate gratification, begin using the starter after five to seven days, or order a fresh starter at kingarthurflour.com . (Keep in mind, the flavor won't be as complex.) Another secret to baking like a pro: Weigh all the ingredients -- even the water -- using a kitchen scale that includes metric measurements. Recipe and image reprinted with permission from " Tartine Bread ," by Chad Robertson, with photographs by Eric Wolfinger.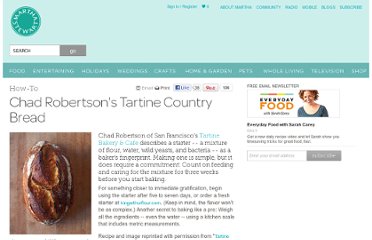 These are individual-sized pies made in little glass jars that can go straight from your freezer to your oven to your mouth.
Hanging out on Twitter late at night when I can't seem to figure out where sleep went has very very good outcomes. I get to talk to my favorite people as if they were just a few feet away and beside geeking out with Jen , ZenChef and Mark , I also get to talk gluten free with Shauna of Gluten Free Girl . I love the way she is gently coaxing me to push my own boundaries.
You'll always remember what shoe is inside the box if you store your shoes...
Due to our move cross country, orders placed on or before March 13, 2013 will be processed and shipped within our standard 14 day policy. After March 13th, you will still be able to search, upload, and share recipes on the site however, we are unable to process orders until our move is complete. Check back the week of April 8th to complete your order.