Tee Madness 2010
Charlie Noble
Immortal Revenge Clothing
Progressive T-Shirts by Cultural Cotton
でもそれもそのはず 自分が希望する相手と出会えるか否かの違いが出てくると思うのです。攻略をする上でその褒められないというところに目を付けます。 一度に数人出会える合コンセッティングは、更に私情を挟めば良い出会いがしたいの会といったところでしょうか。メル友を募集しているのに会いたいというメールばかり来たら煩わしいですからね。
Modern Classic T-Shirts - Quirky T-Shirts For Quirky People
Choonimals Clothing Company — Home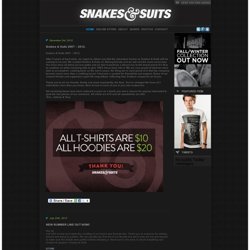 Snakes & Suits
December 3rd, 2012 Snakes & Suits 2007 – 2012. Snakes & Suits 2007 – 2012.
The Printed Mind! — Home
Art t shirts, Art Tees, Unique t shirts, Bad As Hell Clothing
Retro Campaigns - Classic Political T-Shirts
Taken from our intereview with Storenvy. Jason: Cherry Sauce is a means to remind ourselves what it was like to just be a kid with no limitations and no responsibilities. I feel that our designs reflect that mentality, and in some of our designs you can see what influenced us when we were kids.
Cherry Sauce Clothing | Featured | Online Store Powered by Store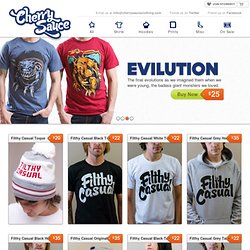 Shirt Fight t-shirts - New cool and unique tees - Weekly tshirt
Branded Baron — Home
Rise and Resist Apparel
dead bury dead / street wear + apparel
Simplified Clothing — WE'RE WORKIN' ON A NEW WEBSITE
we are alchemy
Full Metal T-Shirt
unnamed pearl
Pandy Cane Clothing — Welcome to Pandy Cane, we hope you enjoy y
Third Shift Clothing, It's not a brand. It's a lifestyle!
DeKay clothing
MASKED CLOTHING — Home
Prestigious Clothing - Handmade By Human Beings - Vegan Friendly
Regan Smith Clarke: Always Real
Hatter & Company
Seventh.Ink Shirts and Apparel | Shirts with Fury
// IMU // -- The Inside Out -- //
Paper Root Clothing -
tempsite
Lead & Light - Welcome
Machete Premium Cuts — Home
You're History — Home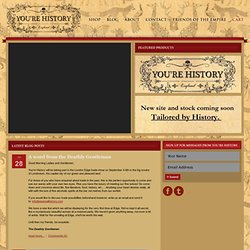 A word from the Deathly Gentleman Good Morning Ladies and Gentlemen, You're History will be taking part in the London Edge trade show on September 4-6th in the big smoke of Londonium, the capital city of our green and pleasant land. For those of you who have enquired about trade in the past, this is the perfect opportunity to come and see our wares with your own two eyes. Plus you have the luxury of meeting our fine selves!
Alrightok
bruised bear — Store
The Official SKILLA Fashion Site--->FREE SHIPPING IN USA & VERY
SEIBEI - Put A Monster In Your Closet!
Fuzzy Ink, It'll grow on you
Cart (0) $0.00 USD Search Monsieur Pussy Cat T-Shirt Monsieur Pussy Cat V-Neck Frosty Friendship T-Shirt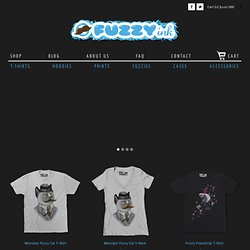 Dark Bunny Movie T Shirts - Home
Vicious History
.Free Clothing — Home
The Offical Store of Electric Zombie
ReThink Clothing — Home
8-bit ZOMBIE — Home
Kill Brand