Blogs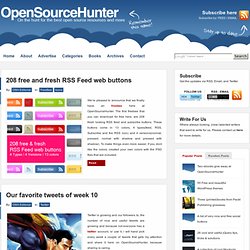 On the hunt for the best open source resources and more.....
208 free and fresh RSS Feed web buttons By: OSH Editorial In: FreeBee Icons We're pleased to announce that we finally have an freebee here at OpenSourceHunter.
What are your favorite design blogs and sites? There are so many design blogs now, that your top list is sure to be a bit different. Here we've collected 16 great design sites that consistently bring high-quality material to their audience. They are filled with great resources, original material, thought provoking articles, or well constructed design tutorials that keep you growing as a designer. Add these sites to your feed reader, if they aren't already in there!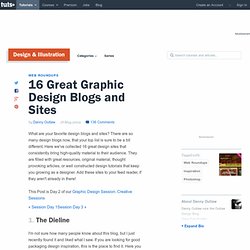 16 Great Graphic Design Blogs and Sites
I am a passionate web designer, front-end developer, & illustrator specializing in CSS driven web design with an emphasis on usability and search engine optimization. I am based in South Bay Torrance (Los Angeles) , CA. Having acquired a Bachelor of Science degree in Computer Information Systems, my design experience began with a programming background that laid the groundwork for a comprehensive design skill set. Overall, I am truly passionate about my work and live and breathe the lifestyle of a die hard designer & front-end developer … Wanna know more? Get to know me
Productivity | FreelanceFolder - Part 3
Graphic Design Blog, Tips and Jobs
Elite By Design - Web Design, Blogging, Photoshop
80 Large Background Websites
As the monitor resolution and internet speed is advancing, it seems like more and more designers use over-sized photo or illustrated image as the website's background. Large background image can create the stunning visual effect, especially for high resolution monitors. It can also add more life to your site design compared to the traditional tiled background graphic. Here is a collection of 80 websites that used large image as the site background (must-see, you won't be disappointed). Photographic Styles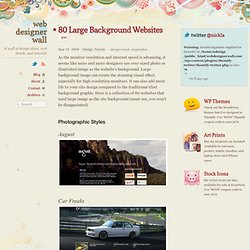 12 Alternative Web Browsers You Should Try | Tools
Chances are you're viewing this page in one of the following web browsers: Firefox, Internet Explorer, or Chrome. I can make this assumption because these three browsers combine for about 90% of the market share. Then again, you might be one of the few people that have adopted an alternative to the big name web browsers. Whatever the case, you do have options when it comes to web browsing. The three I've already mentioned have gained popularity for different reasons, but being popular doesn't always mean something is the right fit for everybody.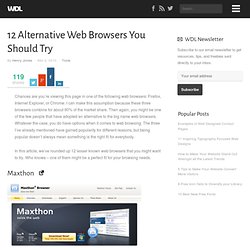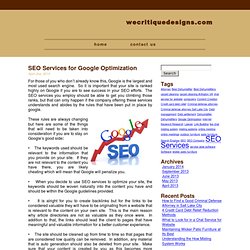 DesignCritique - Another Perspective in Design - Part 2
For those of you who don't already know this, Google is the largest and most used search engine. So it is important that your site is ranked highly on Google if you are to see success in your SEO efforts. The SEO services you employ should be able to get you climbing those ranks, but that can only happen if the company offering these services understands and abides by the rules that have been put in place by google. These rules are always changing but here are some of the things that will need to be taken into consideration if you are to stay on Google's good side: • The keywords used should be relevant to the information that you provide on your site.
Jan 23 2014 SVG is the new standard for vector images in the browser. Vector editors such as Adobe Illustrator allow to directly save to that format and modern browsers have no problems to properly display SVG. As SVG graphics consist of markup, they can be created and maintained using your favorite text editor, just as you do with your HTML.