Organisation armées
Réserve de cavalerie
Pz.Kpfw IV Ausf.H mit Schürzen
The Nafziger Collection of Orders of Battle
Warships 1900-1950
Frog Of War - Historique/Ordre de Bataille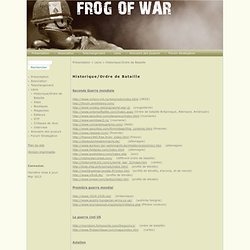 Seconde Guerre mondiale
Feldgrau.com - The German Armed Forces 1919-1945
introduction
The Civil War Soldiers and Sailors System (CWSS) is a database containing information about the men who served in the Union and Confederate armies during the Civil War.
Civil War Soldiers and Sailor System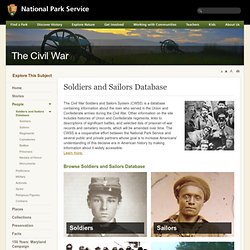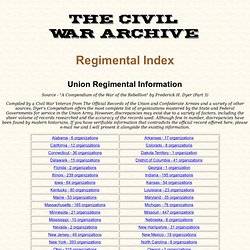 The Civil War Archive Regimental Index - A Listing of all Regiments that Fought During the U.S. Civil War
Regimental Index Union Regimental Information Source - "A Compendium of the War of the Rebellion" by Frederick H. Dyer (Part 3) Compiled by a Civil War Veteran from The Official Records of the Union and Confederate Armies and a variety of other sources, Dyer's Compendium offers the most complete list of organizations mustered by the State and Federal Governments for service in the Union Army.
Armies of the Ancient Near East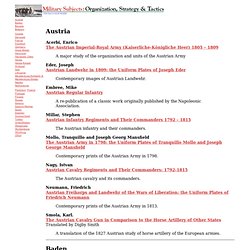 Austria Acerbi, Enrico The Austrian Imperial-Royal Army (Kaiserliche-Königliche Heer) 1805 – 1809 A major study of the organization and units of the Austrian Army
The Napoleon Series: Organization, Strategy & Tactics
The United States Army in the American Civil War was mostly made up of regiments of infantry and cavalry and batteries of artillery. With the exception of a small number of units from the United States Regular Army, most were organized, armed and equipped by the individual states and taken into national service. Of the nineteen free states, all but Kansas, California and Oregon sent one or more regiments to the Eastern Theater, although the majority of the men from Ohio to the west fought elsewhere. Of the slave states that remained in the Union, Missouri and Kentucky sent no troops to the east.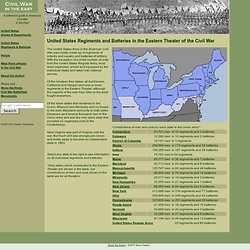 United States Regiments and Batteries in the Eastern Theater of the Civil War