Hemp: The Miracle Plant
Hemp Miracle. Versativa & Rainmaker. Inspirin - Inspired Wellness! Versativa - It's BIG! Hemp: The Miracle Plant | Hemp is the industrial, medicinal, nutritional form of Cannabis Sativa, which is the same plant species as marijuana.
Hemp's main difference from marijuana lies in the level of THC (TetraHydroCannabinol), the chemical that triggers marijuana's psychoactive effects. Hemp has almost no THC. Agriculture: Human beings have been making use of hemp since the beginnings of human civilization. Cannabis Extract Cures. Hemp. Medicinal Herbs. Organic/Hemp. Medicinal Uses Of 22 Common Spices.
Asparagus Use : Kidney problems.Dissolves uric acid deposits.Promotes urination Preparation :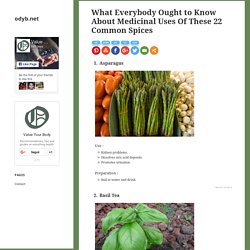 20 Health Benefits of Turmeric. Herbal Remedies | Natural Healing Herbs. Medicinal Herbs | Herbal Forumlas | Disease Database - eMedicinal.com. Marijuana | Health Benefits of Marijuana | Marijuana Plant. Marijuana is one of the most controversial plants, marijuana has properties, which can be applied in medical purposes, but at the same time it is a plant that is appreciated because of its narcotic, sedative and euphoric properties as well.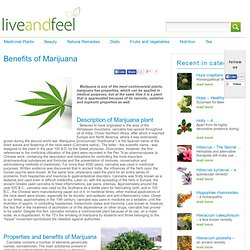 Description of Marijuana plant Believed to have originated in the area of the Himalayan mountains, cannabis has spread throughout all of India, China, Northern Africa, after which it reached Europe and North America, where it was extensively grown during the second world war.
---