Outils du Community Manager
10 outils pour optimiser son compte Twitter : Mieux choisir les hashtags avec Hashtagify.me. Combien de fois, au moment de tweeter, vous êtes-vous gratté la tête en vous demandant quel hashtag utiliser ?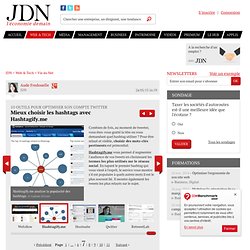 Pour être relayé et visible, choisir des mots-clés pertinents est primordial. Hashtagify.me vous permet d'augmenter l'audience de vos tweets en choisissant les termes les plus utilisés sur le réseau social . Analyze your Facebook page | Likealyzer. Facebook Cover Compliance Tool, check your Cover-Photos against the new 20% Rule. Optimization Check Results - Paris : comeen.com - 03/10/13 00:27:32. Details: First Byte Time (back-end processing): 12/100 1341 ms First Byte Time462 ms Target First Byte Time Use persistent connections (keep alive): 100/100 Use gzip compression for transferring compressable responses: 92/100 1,084.7 KB total in compressible text, target size = 1,003.0 KB - potential savings = 81.8 KB.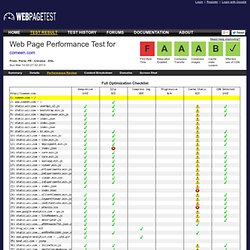 Add and create PicBadges for Facebook and Twitter profile pictures. It's FREE and easy! Tester si son email passera les filtres anti-spam. Lorsque l'on doit envoyer une newsletter on doit travailler trois aspects.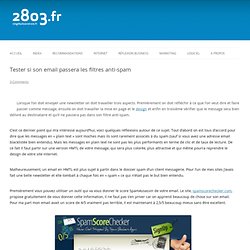 Premièrement on doit réfléchir à ce que l'on veut dire et faire passer comme message, ensuite on doit travailler la mise en page et le design et enfin en troisième vérifier que le message sera bien délivré au destinataire et qu'il ne passera pas dans son filtre anti-spam. C'est ce dernier point qui m'a intéressé aujourd'hui, voici quelques réflexions autour de ce sujet. Bienvenue sur Rebus-O-Matic.com, la machine à faire des rébus. Findus. MailTester.com. Baromètre Agorapulse - Mes pages. Générateur de Mots Mêlés. Orientation des mots : Liste des mots : Emplacement : Masquer la liste Trier la liste dans l'ordre alphabétique Afficher la liste des mots dans une nouvelle fenêtre Assurez-vous d'avoir désactivé tout bloqueur de pop up.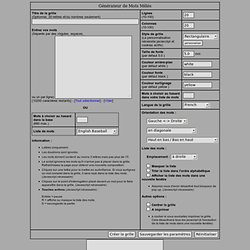 (Javascript nécessaire) Autres options : Centrer la grille A imprimer. TabSite Facebook App Enables Instagram Photo Contests. Comment Générer Plus de 1500 Visites en 3 Jours sur un Nouveau Blog ? [Etude de cas] Aux dernières nouvelles, il y a 181 millions de blogs dans le monde.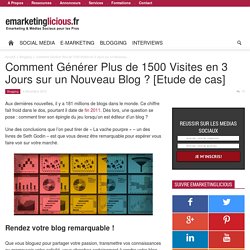 Ce chiffre fait froid dans le dos, pourtant il date de fin 2011. Dès lors, une question se pose : comment tirer son épingle du jeu lorsqu'on est éditeur d'un blog ? Woobox - Sweepstakes, Coupons, and more for Facebook Pages & Twitter. [Boîte à outils] 5 applications pour créer sa propre infographie   Esthétiques, claires, efficaces et surtout très virales, les infographies en tous genres envahissent la toile.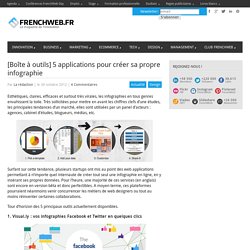 Très sollicitées pour mettre en avant les chiffres clefs d'une études, les principales tendances d'un marché, elles sont utilisées par un panel d'acteurs : agences, cabinet d'études, blogueurs, médias, etc. Surfant sur cette tendance, plusieurs startups ont mis au point des web applications permettant à n'importe quel internaute de créer tout seul une infographie en ligne, en y insérant ses propres données. Pour l'heure, une majorité de ces services (en anglais) sont encore en version bêta et donc perfectibles. A moyen terme, ces plateformes pourraient néanmoins venir concurrencer les métiers de web designers ou tout au moins réinventer certaines collaborations. Tour d'horizon des 5 principaux outils actuellement disponibles. Gallery | Create Infographics | Visual.ly. How to invite all of your friends when creating an event on Facebook | NiallSpace. A friend of mine recently posted a status on Facebook. anyone know how to select all friends when making an event instead of clicking one by one?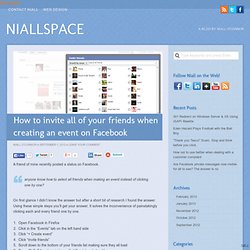 On first glance I didn't know the answer but after a short bit of research I found the answer. Using these simple steps you'll get your answer. Social Media Monitoring | SDL|SM2. StatusPeople: The Social Media Management Platform for Your Business. Icon Archive - Search 348,984 free icons, desktop icons, download icons, social icons, xp icons, vista icons. Zendesk Adds Support For Facebook Private Messages. Cloud-based help desk software provider Zendesk announced that its Zendesk for Facebook now supports private messages.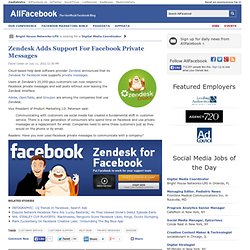 Users at Zendesk's 20,000-plus customers can now respond to Facebook private messages and wall posts without ever leaving the Zendesk interface. Adobe, OpenTable, and Groupon are among the companies that use Zendesk. Vice President of Product Marketing J.D. Peterson said: Communicating with customers via social media has created a fundamental shift in customer service. Tri des déchets - Le Télégramme. Mots contenant certaines lettres. Annonces sponsorisées : Recherche des mots contenant un motif de lettres Les résultats sont limités au delà de 500.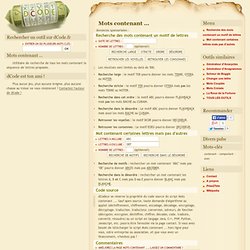 Recherche large : le motif TER pourra donner les mots TERRE, OTERA ou NOTER. Recherche stricte : le motif TER pourra donner OTERA mais pas les mots TERRE ou NOTER. Recherche dans cet ordre : le motif ABC pourra donner FLASHBACK mais pas les mots BACHE ou CUBAIN. 500px / Home. Pages Analyzer par Mediaventilo, bien plus que Facebook insights pour les community manager. La meilleure façon d'envoyer des gros fichiers - WeTransfer. Règles publicitaires. Facebook. Visible Tweets – Twitter Visualisations. Now with added prettiness! 10 Applications Facebook Pour Créer Une Landing Page.
Les billets de la série Social Media Marketing sont ouverts au parrainage.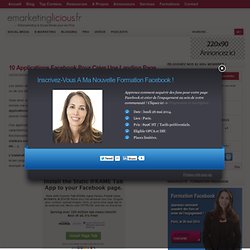 Si vous souhaitez parrainer un de nos billets, merci de consulter la rubrique « annonceurs ». Vous avez une page Facebook pour votre entreprise ? Et vous voulez lui ajouter une landing page ou encore une page d'atterrissage ? Custom Tag On Facebook Comment | CrazyDavinci's Blog | Social Networking, Programming, Security, Web Development. May 06, 2011 Posted by: Joy CrazyDaVinci : Category: Facebook Tips A couple months a go, facebook added a new function that enables users to tag their friends on their comment system (status update and wall comment). By default you can do that simply by typing @ and type any letter then list of your friends with that particular letter will show up. Newsring - Faites progresser le débat.
---