Makeup
Allure. Facial, Makeup, Cosmetics, Hair, Body - Beauty Product Reviews. Women's Fashion Trends & Tips: Fashion Reviews & Style Tips from SheFinds. How to Contour a Wide Nose. Galleries - 25 Amazing Celebrities Before And After Plastic Surgery - stars_plastic_surgery_46.
§. Instructables - Make How To and DIY. Free Virtual Makeovers, choose from hundreds of virtual hairstyles, celebrity hair styles and makeup. Skin Deep - Computer Program Produces Image of an Ideal You. Face Research » Psychology experiments about preferences for faces and voices. The Beauty Brains. Symmetry Measurement and Analysis Tools. See Your SymFace...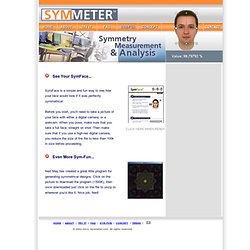 SymFace is a simple and fun way to see how your face would look if it was perfectly symmetrical. Before you start, you'll need to take a picture of your face with either a digital camera, or a webcam. When you pose, make sure that you take a full face, straight on shot. Then make sure that if you use a high-res digital camera, you reduce the size of the file to less than 100k in size before proceeding.
---