Vrml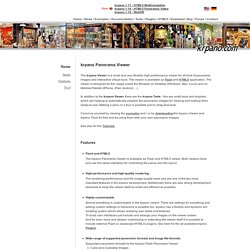 The krpano Viewer is a small and very flexible high-performance viewer for all kind of panoramic images and interactive virtual tours. The viewer is available as Flash and HTML5 application. The viewer is designed for the usage inside the Browser on Desktop (Windows, Mac, Linux) and on Mobiles/Tablets (iPhone, iPad, Android, ...). In addition to the krpano Viewer there are the krpano Tools - this are small tools and droplets which are helping to automatically prepare the panoramic images for viewing and making them ready-to-use. Making a pano or a tour is possible just by drag-and-drop.
Release Notes: OpenVRML now builds against Boost 1.47.0, XULRunner 12.0, and libpng 1.5. Release Notes: An erroneous library version change in the 0.18.7 release was fixed. Release Notes: The code was modified to build against XULRunner 2.0. Problems compiling with Text node rendering disabled were fixed. Resilience of the parsers was improved. Release Notes: Memory corruption issues in the PNG and JPEG readers were fixed.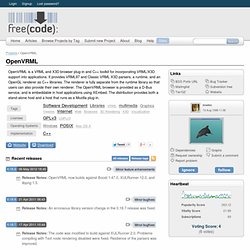 Project details for OpenVRML
Xj3D Java-based X3D Toolkit & Browser
Xj3D is an open source (LGPL) project of the Web3D Consortium Source Working Group focused on creating a toolkit for VRML97 and X3D content written completely in Java. It serves a dual purpose of being an experimental codebase for trying out new areas of the X3D specification and as a library that we encourage application developers to use within their own application to support X3D technology. Xj3D is highly componetized so it is easy to use only the components you need for developing your own X3D-based project.
Article Tribunix sur VRML
VRML @ SIM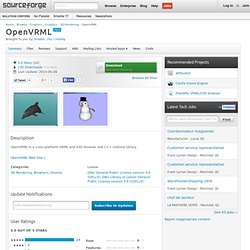 OpenVRML
★ 5.0 Stars (24) 237 Downloads (This Week) Last Update: Download openvrml-0.18.9.tar.gz Browse All Files OpenVRML is a cross-platform VRML and X3D browser and C++ runtime library.
Introduction to VRML 97
Floppy's Web3D Guide
FreeWRL VRML/X3D Browser - UNIX & Open Source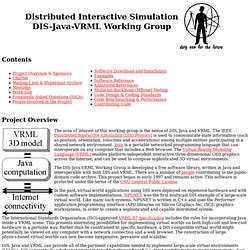 Contents Project Overview The area of interest of this working group is the nexus of DIS, Java and VRML.
DIS-Java-VRML Working Group
jsdt: Home
Oracle Oracle Oracle Technology Network > Java Challenge Win A Trip to JavaOne 2014 Build an application for the Internet of Things (IoT) Developer Challenge for a trip for you and two other team members to win a trip to JavaOne.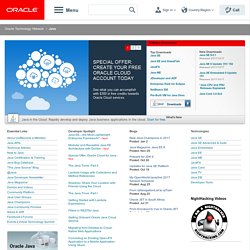 Perf-rv
CNMA Graduate Student Blogs
VR-architect : Web and Internet site Management, Virtual Reality