Scenographie
Cooper. Blog "Industries de la Créativité & Innovation" Site créé avec 1&1 TopSite Express - Accueil. Accueil - le rond point de l"innovation. Penser la photographie » Préparation d'expositions. Conception – sélection– scénographie sur maquette – préparatifs pour l'accrochage Mise en place d'un planningBudgetRepérage du lieu d'expositionFabrication d'une maquette à échelle réduiteTrame de l'expositionSélection des photographiesScénographieTirageFinitions – présentationPréparatifs pour l'accrochageCommunicationAffichageRédaction du dossier de presseDiscussion pour la vente des tiragesCalcul du coût réel de l'expositionBilan 4 à 6 mois de préparation – 32 à 48 heures La sélection des photographies peut prendre plusieurs semainesLe tirage peut durer plusieurs semaines Les tirages sont discutés pendant l'atelier.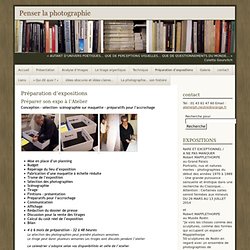 Neave.com ...the interactive playground of Paul Neave. Physical interface. Mobile Interaction with the Real World - Workshop @ MobileHCI 2007. Theme Mobile devices have become a part of our everyday lives as most people rely on mobile phones, smart phones or PDAs as personal and pervasive communication devices.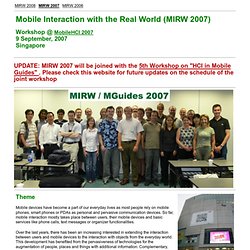 So far, mobile interaction mostly takes place between users, their mobile devices and basic services like phone calls, text messages or organizer functionalities. Over the last years, there has been an increasing interested in extending the interaction between users and mobile devices to the interaction with objects from the everyday world. This development has benefited from the pervasiveness of technologies for the augmentation of people, places and things with additional information. Cicatriz Clothing - Winter 2007 Collection. Interaction: The Human-Computer Interaction (HCI) Group. Founded in 1984, Interaction is a specialist HCI group of BCS, The Chartered Institute for IT.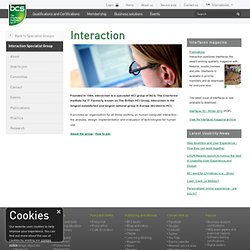 Formerly known as The British HCI Group, Interaction is the longest-established and largest national group in Europe devoted to HCI. It provides an organisation for all those working on human-computer interaction - the analysis, design, implementation and evaluation of technologies for human use. About the group | How to join.
---