Search
Digital bites. Top Twenty. The Great Flickr Tools Collection. Looking for Flickr Tools, hacks and services for a powerful photo sharing experience?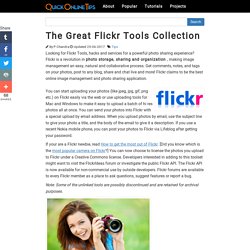 Flickr is a revolution in photo storage, sharing and organization , making image management an easy, natural and collaborative process. Get comments, notes, and tags on your photos, post to any blog, share and chat live and more! Flickr claims to be the best online image management and photo sharing application.
Advertisements You can start uploading your photos (like jpeg, jpg, gif, png etc.) on Flickr easily via the web or use uploading tools for Mac and Windows to make it easy to upload a batch of hi res photos all at once. Question! FlickrCC. Creative Commons. Many Flickr users have chosen to offer their work under a Creative Commons license, and you can browse or search through content under each type of license.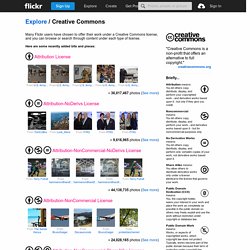 Here are some recently added bits and pieces: Attribution License » 58,276,835 photos (See more) Attribution-NoDerivs License.
---