Museums
Quay Brothers Retrospective at MoMA. Robert Barker/Cornell University Quay Brothers: On Deciphering the Pharmacist's Prescription for Lip-Reading Puppets, at the Museum of Modern Art, features this décor "They Think They're Alone," from the film "Rehearsals for Extinct Anatomies."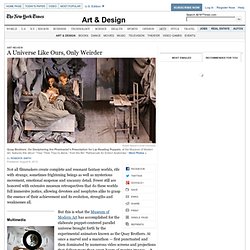 More Photos » But this is what the Museum of Modern Art has accomplished for the elaborate puppet-centered parallel universe brought forth by the experimental animators known as the Quay Brothers. Twelve Artists Who Make Marfa, Texas, a Cultural Destination. One expects to encounter the Milanese fashion brand's storefronts in such chic locations as Manhattan's Fifth Avenue and Paris's Rue Saint-Honoré, but what about finding a Prada boutique just off U.S.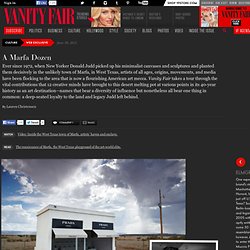 Highway 90, a mile west of Valentine, Texas? Such is what the Scandinavian-born, Berlin-based artist collaborators Michael Elmgreen and Ingar Dragset set out to achieve in the fall of 2005 with their permanently installed sculpture aptly entitled Prada Marfa, which actually stands some 30 miles outside of Marfa. The boutique's resemblance to its major-city counterparts, however, is purely external; visitors are not invited to enter the installation. And how does designer Miuccia Prada feel about the work of art, which features pieces from her fall collection in the windows?
Join the Crew of Tom Sachs's DIY Mission to Mars at Park Avenue Armory. Tom Sachs, dressed in khakis and a white short-sleeve collared shirt complete with pocket protector, stood at a control panel in the front of the Park Avenue Armory's cavernous Wade Thompson Drill Hall, his face lit by a bank of dozens of television monitors.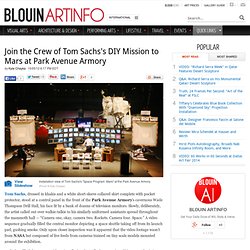 Slowly, deliberately, the artist called out over walkie-talkie to his similarly uniformed assistants spread throughout the mammoth hall — "Camera one, okay, camera two. Rockets. Camera four. Shock-seekers snap up new Aussie art dare. Smell This Shit – It's Art. A truly interactive exhibit at this Aussie museum has visitors gagging, as reported by Reuters: Smelling excrement may not be everyone's idea of fun, but for those who like to push the boundaries, Australia's most controversial new museum may be just what they are looking for.Dubbed "the subversive adult Disneyland", the Museum of Old and New Art (MONA) is located in Tasmania and features around 400 works of art from Egyptian mummies to Young British Artists including Chris Ofili and Jenny Saville.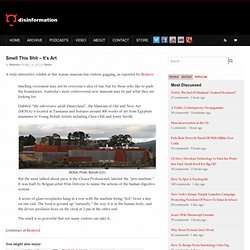 MONA. Photo: Barrylb (CC)But the most talked-about piece is the Cloaca Professional, labeled the "poo-machine." It was built by Belgian artist Wim Delvoye to mimic the actions of the human digestive system.A series of glass receptacles hang in a row with the machine being "fed" twice a day on one end. How China Went from Art-Market Afterthought to World Auction Superpower. The year 2011 delivered three seemingly incredible statistics that confirmed the status of China as a major power in the global art world.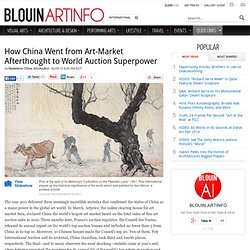 In March, Artprice, the online clearing-house for art market data, declared China the world's largest art market based on the total value of fine art auction sales in 2010. Three months later, France's auction regulator, the Conseil des Ventes, released its annual report on the world's top auction houses and included no fewer than 5 from China in its top 10.
Moreover, 10 Chinese houses made the Conseil's top 20. Two of them, Poly International Auction and its archrival, China Guardian, took third and fourth places, respectively. Metropolitan Museum of Art's New Guidebook. The Metropolitan Museum of Art Enticements from the new Met guide: "Hypocrite and Slanderer," above; "Kneeling Bull Holding a Spouted Vessel," right; and "Aquamanile Depicting Aristotle and Phyllis."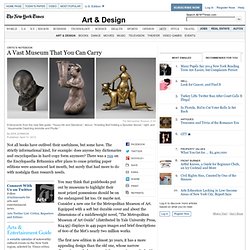 You may think that guidebooks put out by museums to highlight their most prized possessions should be on the endangered list too. Or maybe not. Consider a new one for the Metropolitan Museum of Art. 'The Dawn of Egyptian Art' at the Metropolitan Museum. Karsten Moran for The New York Times A detail of a sculpture of a bound captive that formed part of a temple threshold on display in the "Dawn of Egyptian Art" exhibition at the Metropolitan Museum.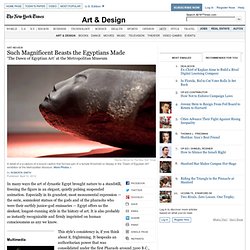 More Photos » This style's consistency is, if you think about it, frightening. It bespeaks an authoritarian power that was consolidated under the first Pharaoh around 3100 B.C., and that, despite political ups and downs, maintained a firm grip on the country's aesthetic program for nearly three millenniums. Guggenheim and UBS Project Plan Cross-Cultural Program. The project, to be financed by UBS and called the Guggenheim UBS Map Global Art Initiative, will begin with South and Southeast Asia.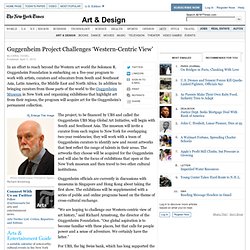 The museum will invite a curator from each region to New York for overlapping two-year residencies; they will work with a team of Guggenheim curators to identify new and recent artworks that best reflect the range of talents in their areas. The artworks they choose will be acquired for the Guggenheim and will also be the focus of exhibitions that open at the New York museum and then travel to two other cultural institutions. Guggenheim officials are currently in discussions with museums in Singapore and Hong Kong about taking the first show. 'Colorful Realm,' Works by Ito Jakuchu at National Gallery. These thoughts were crystallized for me by one of the most beautiful exhibitions I have ever seen: "Colorful Realm: Japanese Bird-and-Flower Paintings by Ito Jakuchu (1716-1800)" at the National Gallery of Art here.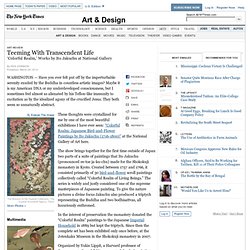 The show brings together for the first time outside of Japan two parts of a suite of paintings that Ito Jakuchu (pronounced ee-toe ja-ku-chu) made for the Shokokuji monastery in Kyoto. Created between 1757 and 1766, it consisted primarily of 30 bird-and-flower scroll paintings collectively called "Colorful Realm of Living Beings." The series is widely and justly considered one of the supreme masterpieces of Japanese painting. Gallery: Programs: Japan Society. ExhibitionMarch 7, 2014–June 8, 2014 "A radically reorienting show…gives you a new way to navigate Japanese art.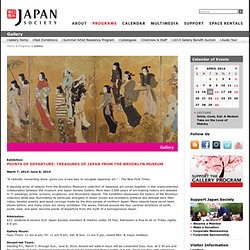 " - The New York Times A dazzling array of objects from the Brooklyn Museum's collection of Japanese art comes together in this unprecedented collaboration between the museum and Japan Society Gallery. More than 2,000 years of art-making history are detailed in 71 paintings, prints, screens, sculptures, and decorative objects. The exhibition showcases the history of the Brooklyn collection while also illuminating its particular strengths in lesser known but revelatory artifacts like delicate bark fiber robes, beaded jewelry and wood carvings made by the Ainu people of northern Japan. Sri Arts :: Functional Arts: Indonesian Art. In Texas, a Tradition of Museums That Showcase the Quirky. 'In Vibrant Color' - Harry Warnecke - National Portrait Gallery. ¶"I Love Lucy" wouldn't have been as funny in color. ¶Gen. George S. Patton wouldn't have been as fearsome in color. ¶Charlie McCarthy wouldn't have been as believable in color.
¶Cowboys ought always to be photographed in black and white after the age of 30. Russian Real Estate Magnate Takes on Putin With Appropriation Art Show on the Upper East Side. Most people don't associate Russian protest art with mansions on Manhattan's Upper East Side, but Soviet-born real-estate-developer-turned-art-collector-turned-artist Janna Bullock found a fitting venue for her installation, "Allegories & Experiences," in the bare space of a Beaux Arts house on East 82nd Street. Sparked by the massive demonstrations in Russia in late 2011, the exhibition — Bullock's response to the 12-year rule of Vladimir Putin — is timed to coincide with the country's March 4 presidential elections.
"The latest developments are quite fascinating and I think as with any dictatorship, no matter how bulletproof it seems, it comes to an end," Bullock says, explaining the motivation behind the work. "And it is my responsibility – and the responsibility of anybody who has position, knowledge, expertise, and will – to make sure that people understand that dictatorship is not forever and they have to stand up for themselves and they have to speak. " 'The Steins Collect,' Matisse and Picasso, at the Met. 2012 Whitney Biennial. Smithsonian making 3D models of items from its collection. What do you do when you're the world's largest museum but can display only two percent of the 137 million items in your collection (a mere 2.75 million) at any given time?
In an effort to get more of their treasures into the public eye, specialists at the Smithsonian Institution's 19 collective museums and galleries hit upon the solution of digitizing their collection and 3D printing key models and displays suitable for traveling exhibitions. It's a tall order, but one that's sure to give the rapidly blooming business of additive manufacturing a huge boost. View all In the past, whenever curators wanted to duplicate an object, they turned to traditional rubber molds and plaster casts. Burgonet. This masterpiece of Renaissance metalwork is signed on the browplate by Filippo Negroli, whose embossed armor was praised by sixteenth-century writers as "miraculous" and deserving "immortal merit.
" Formed of one plate of steel and patinated to look like bronze, the bowl is raised in high relief with motifs inspired by classical art. The graceful mermaidlike siren forming the helmet's comb holds a grimacing head of Medusa by the hair. The sides of the helmet are covered with acanthus scrolls inhabited by putti, a motif ultimately derived from ancient Roman sculpture and wall paintings. "Chambord" 'The Ungovernables - 2012 New Museum Triennial' Librado Romero/The New York Times The Ungovernables: 2012 New Museum Triennial Danh Vo's "We the People," copper fragments of a full-size replica of the Statue of Liberty, is featured in this triennial. More Photos » How true this is of their art turns out to be highly debatable, but the show does look and feel different from its moody, jangly predecessor. Writing in the catalog, the curator, Eungie Joo, director of education and public programs at the New Museum, sets the 2012 triennial in the context of, among other things, the recent Occupy movement.
The reference is getting old now, but you can see its point. Art Project, powered by Google.
---