Books & Literature
For Better for Verse. Fred OBryants Quote Collection - Volume 5. There are 500 quotes in this volume.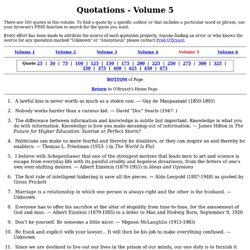 To find a quote by a specific author, or that includes a particular word or phrase, use your browser's FIND function to search for the quote you want. Every effort has been made to attribute the source of each quotation properly. Percy Bysshe Shelley's poem: Epipsychidion. L'anima amante si slancia fuori del creato, e si crea nell' infinito un Mondo tutto per essa, diverso assai da questo oscuro e pauroso baratro.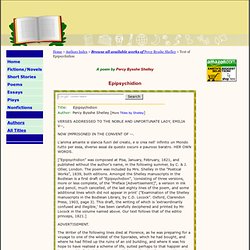 HER OWN WORDS. ["Epipsychidion" was composed at Pisa, January, February, 1821, and published without the author's name, in the following summer, by C. & J. 'Where the Heart Beats,' John Cage Biography, by Kay Larson. Written by Kay Larson, who for 14 years was the art critic for New York magazine, it describes John Cage's philosophical awakening through Zen Buddhism, which changed not only the sort of music he composed but, seemingly, everything he did and said.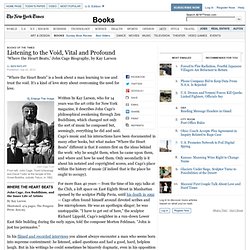 Cage's music and his interactions have been documented in many other books, but what makes "Where the Heart Beats" different is that it centers first on the ideas behind the work: why he sought them, when he came upon them, and where and how he used them. Only secondarily is it about his notated and copyrighted scores, and Cage's place within the history of music (if indeed that is the place he ought to occupy). For more than 40 years — from the time of his 1951 talks at the Club, a loft space on East Eighth Street in Manhattan opened by the sculptor Philip Pavia, until his death in 1992 — Cage often found himself around devoted scribes and live microphones.
He was an apothegm slinger; he was unstoppable. Ducky Wilson | The Hooker from Phnom Penh. While an Asian pro with a rhinestone ass wiggles next to a pot-bellied shooter sporting a runaway moustache at the Bellagio craps table, I wonder what the percentage of self-deluded people there are in the world.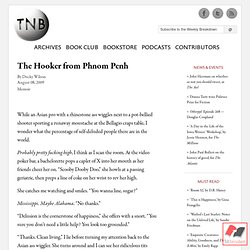 Probably pretty fucking high, I think as I scan the room. At the video poker bar, a bachelorette pops a caplet of X into her mouth as her friends cheer her on. "Scooby Dooby Doo," she howls at a passing geriatric, then preps a line of coke on her wrist to rev her high. Books that will induce a mindfuck. Q&A: Matt Taibbi on the 40th Anniversary of Fear and Loathing on the Campaign Trail '72, Hunter S. Thompson's influence, and Why Barack Obama Isn't a Great Shark - Page 1 - Books. Matt Taibbi, like many journalists, grew up idolizing Hunter S.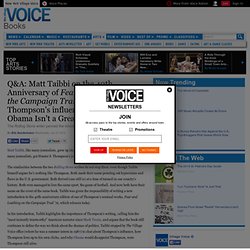 Thompson. But Taibbi, unlike many journalists, got Hunter S. Thompson's job. The similarities between the two Rolling Stone scribes do not stop there, even though Taibbi himself argues he's nothing like Thompson. Consider the Lobster: 2000s Archive. For 56 years, the Maine Lobster Festival has been drawing crowds with the promise of sun, fun, and fine food.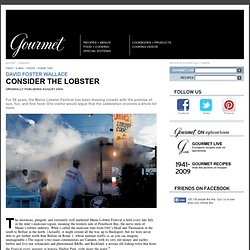 One visitor would argue that the celebration involves a whole lot more. The enormous, pungent, and extremely well marketed Maine Lobster Festival is held every late July in the state's midcoast region, meaning the western side of Penobscot Bay, the nerve stem of Maine's lobster industry. Comics masters. Not very long ago, a dedicated comics library might have looked less like a rare books room and more like a semi-coherent junk store, containing a three-dimensional scrapbook of out-of-print books, half-completed reprint series, miscellaneous small press magazines, bound photocopies and endless clippings.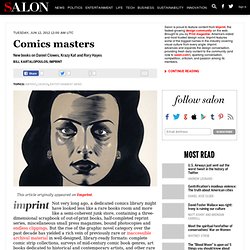 But the rise of the graphic novel category over the past decade has yielded a rich vein of previously rare or inaccessible archival material in well-designed, library-ready formats: complete comic strip collections, surveys of mid-century comic book genres, art books dedicated to historical and contemporary artists, and other rare pleasures.
Today, a dedicated reader could fill several bookshelves with volumes compiled from this thoroughgoing history of comics, and a more casual reader or researcher can easily find the same at a well-stocked library. Bibliomania - Free Online Literature and Study Guides. Great Books Index - List of Titles. An Index to Online Great Books in English Translation To obtain an index of an author's works, including any known online editions of each work, and online articles about that author, select the author's name.
To obtain an index of online editions of a particular work, select the name of that work. Then you will be able to scroll up and down to see other works by that author and articles about the author. Www.oscarwildecollection.com. Index. Illustrating the '60s music revolution - Imprint. Literature Project - Free eBooks Online.
- StumbleUpon. Poetry. Cold Shoulder. The Secret. Don't worry, nobody has the beautiful lady, not really, and nobody has the strange and hidden power, nobody is exceptional or wonderful or magic, they only seem to be it's all a trick, an in, a con, don't buy it, don't believe it. the world is packed with billions of people whose lives and deaths are useless and when one of these jumps up and the light of history shines upon them, forget it, it's not what it seems, it's just another act to fool the fools again. there are no strong men, there are no beautiful women. at least, you can die knowing this and you will have the only possible victory.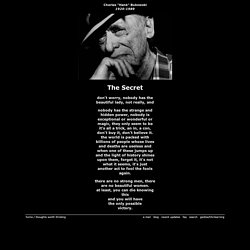 Japanese Folktales. Selected and edited by D.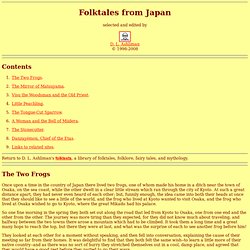 L. Ashliman © 1998-2008 Contents. The real Black Dahlia - Imprint. And then the lights go out. After the movie, I do a little gumshoe work on this Renner. She works out of a site she calls the Vintage Powder Room, devoted to "history, women and art." She lectures around town regularly, and has even been on the small screen, in a film noir segment for the Turner Classic Movies series "Film Fanatics" and in an episode of the ID Discovery Channel's "Deadly Women" series. On weekends she's a tour guide for Estotouric, and her most popular tour is "The Real Black Dahlia."
It covers the story of Elizabeth Short, who was just another babe who hit Tinsel Town with pipe dreams of stardom until her bisected and mutilated body was found on a vacant lot in Leimert Park in 1947. On Snobbery and Books for Grown-Ups. Joel Stein is being roundly booed as a snob for opining in a recent Times roundtable that "Adults Should Read Adult Books" and steer clear of young adult fare. Maybe out of pure contrariness, I'm inclined to offer a qualified defense.
It has to be qualified because, let's face it, I'm a 33-year-old man with an extensive comic book library. I even read all the Harry Potter and Hunger Games books, and I can't see why that's any worse a light entertainment than watching an action movie—which takes about as long. Nor—since he mentions the shame of seeing an adult crack one of these tomes on an airplane—are they appreciably less sophisticated or intellectually challenging than any number of spy thrillers, conspiracy yarns, and other airport bookshop staples.
None of them contain prose as clunky or appalling as nominal "adult" author Dan Brown churns out. "The Zone": The life of a prison guard - Fiction. "Devil in the Grove": A chilling civil rights case. 'How Creativity Works': It's All In Your Imagination. iStockphoto.com What makes people creative? What gives some of us the ability to create work that captivates the eyes, minds and hearts of others? Jonah Lehrer, a writer specializing in neuroscience, addresses that question in his new book, Imagine: How Creativity Works. - StumbleUpon. Brave New World by Aldous Huxley - StumbleUpon.
Chapter One A SQUAT grey building of only thirty-four stories. Over the main entrance the words, CENTRAL LONDON HATCHERY AND CONDITIONING CENTRE, and, in a shield, the World State's motto, COMMUNITY, IDENTITY, STABILITY. The enormous room on the ground floor faced towards the north. Cold for all the summer beyond the panes, for all the tropical heat of the room itself, a harsh thin light glared through the windows, hungrily seeking some draped lay figure, some pallid shape of academic goose-flesh, but finding only the glass and nickel and bleakly shining porcelain of a laboratory. Wintriness responded to wintriness.
Kenneth Fearing. Kenneth Fearing, a well-known proletarian poet of the 1930s, a pulp-magazine writer with several pseudonyms, and a Chicago and New York publicity and editorial writer, turned to writing "psycho-thrillers" in the 1940s and 1950s. His fourth novel The Big Clock (1946) achieved much popularity and was released as a film by Paramount in 1947. Although some scholars now consider Fearing's main contribution to be in the genre of poetry, the 1980 paperback republication of The Big Clockrepresents mystery buffs' recognition of the novel as a classic. Some contemporary critics found that Fearing's multiple, first-person narrators detracted from the plots of his novels, but this technique allowed Fearing to probe the minds of both the pursued and the pursuers. Kenneth Fearing - All poems of Kenneth Fearing. "Turing's Cathedral": Gods of the digital universe - Nonfiction.
The modern war canon - The Browser. Jonathan Franzen and the Web will never get along - Books. Entertainment Writer Has Knack For Making Complex Pop Culture Concepts Accessible To Lay Readers. Big Idea. The brilliance of speculative sci-fi - Science Fiction and Fantasy. Cheryl Strayed's Wild, reviewed. Mo Willems' meditation on death. Varney the Vampire. The accessible Emerson. 'House of Stone,' a Memoir by Anthony Shadid. - StumbleUpon. BookMooch: trade your books with other people - StumbleUpon. Welcome to Open Library. FullBooks.com - Thousands of Full-Text Free Books. Book recommendations from readers like you. 'The Lifespan of a Fact,' by John D'Agata and Jim Fingal. 50 Most Influential Books of the Last 50 (or so) Years. 30 Books I'm Glad I Read Before 30. Whichbook | A new way of choosing what to read next. Authorama - Public Domain Books. Get (Almost) Any Book For Free: 100+ (Kosher) Sites Offering Great Literature for Download.
The Q&A: Irvine Welsh: We are always moving towards failure. Millions of Free PDF eBooks! Free PDF Search Engine. Chinese Poems. Do not stand at my grave and weep. A comic take on torture. The 100 Best Books of All Time.
---