Home
Paper Craft Ideas, Stationary Ideas, Card Making Ideas. Card Making - Scrapbooking Ideas Centre. Valentine's Day Card Idea Posted on February 5, 2014 by Jennifer Gormly Valentine's Day is just around the corner and romance is in the air.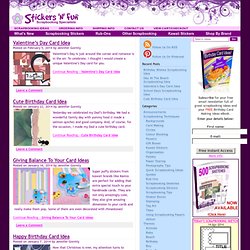 To celebrate, I thought I would create a unique Valentine's Day card for you. Continue Reading - Valentine's Day Card Idea. Most favorited all-time | craftgawker - StumbleUpon. How To Make a String Tree Wall Mural Home Hacks | Apartment Therapy Re-Nest - StumbleUpon. Previous image Next image This impressive mural (along with a few others) were made by artist Kathryn Anderson with nothing more than pushpins and yarn.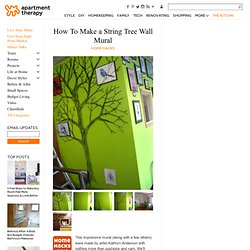 We'll show you how you can create your own, step by step and with tips from the artist.Kathryn Anderson of KAndeArt has made some great wall murals out of nothing more than string and push pins. Here are her steps to creating a beautiful and unique murals from string. Sleeper of a Bag. Hanging Leaves. Origaminizing. Etched Glass Storage Jars - Martha Stewart Home and Garden. Halloween Painted Jar Luminaries ~ Crafts by Amanda - StumbleUpon.
This isn't the first time I've made luminaries for Halloween.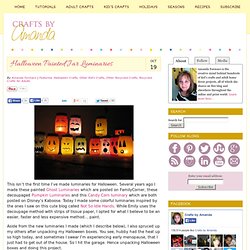 Several years ago I made these painted Ghost Luminaries which are posted on FamilyCorner, these decoupaged Pumpkin Luminaries and this Candy Corn luminary which are both posted on Disney's Kaboose. Today I made some colorful luminaries inspired by the ones I saw on this cute blog called Not So Idle Hands. While Emily uses the decoupage method with strips of tissue paper, I opted for what I believe to be an easier, faster and less expensive method… paint.
Introducing UrbanCatDesign, New Line of Modern Cat Furnitur... - StumbleUpon. Map Coasters - Martha Stewart Crafts - StumbleUpon. Create Your Own Flowers on zefrank.com - StumbleUpon. Wall decals bird on Etsy, a global handmade and vintage marketplace. <div id="javascript-nag" class="notice"><p> Take full advantage of our site features by enabling JavaScript.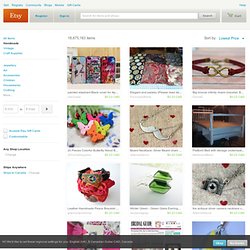 <a href=" more</a>. </p></div> Help. Wall decals bird tree on Etsy, a global handmade and vintage marketplace. Etsy or Shop by Category Browse Etsy Close Sign In Using Facebook or.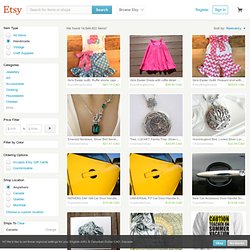 ---