Environnement
poele de masse Type ROCKET
France Recyclage News » Blog Archive » La France laisse filer deux navires de Seafrance à Alang.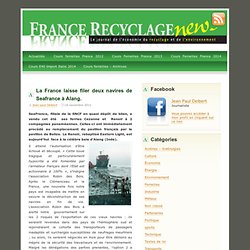 La France laisse filer deux navires de Seafrance à Alang. Jean-paul Delbert 15 novembre 2011 SeaFrance, filiale de la SNCF en quasi dépôt de bilan, a vendu cet été ses ferries Cezanne et Renoir à 2 compagnies panaméennes.
Surflog :: [Accident en mer] TK Bremen - 16-déc.-2011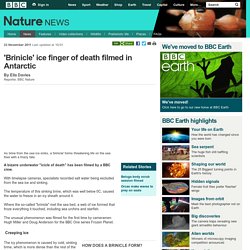 23 November 2011Last updated at 10:01 By Ella Davies Reporter, BBC Nature As brine from the sea ice sinks, a 'brinicle' forms threatening life on the sea floor with a frosty fate. A bizarre underwater "icicle of death" has been filmed by a BBC crew. With timelapse cameras, specialists recorded salt water being excluded from the sea ice and sinking. The temperature of this sinking brine, which was well below 0C, caused the water to freeze in an icy sheath around it. Where the so-called "brinicle" met the sea bed, a web of ice formed that froze everything it touched, including sea urchins and starfish.
Michel Rocard : « Nous sommes en train de passer le pic pétrolier » [vidéo France Inter]
Le Monde - Energies --The New York Times - Oil [ Offshore drilling & Exploration ] [ Energy & Environment ] [ Dot Earth ] [ Green ] The Financial Times Oil & Gas [ Energy ] The Guardian - DataBlog + Oil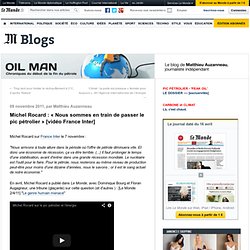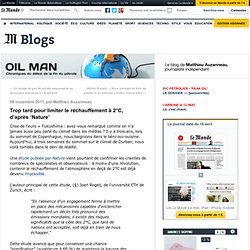 Crise de l'euro + Fukushima : avez-vous remarqué comme on n'a jamais aussi peu parlé du climat dans les médias ? Il y a trois ans, lors du sommet de Copenhague, nous baignions dans le béni-oui-ouisme. Aujourd'hui, à trois semaines du sommet sur le climat de Durban, nous voilà tombés dans le déni de réalité. Une étude publiée par Nature vient pourtant de confirmer les craintes de nombreux de spécialistes et observateurs : à moins d'une révolution, contenir le réchauffement de l'atmosphère en deçà de 2°C est déjà devenu impossible.
Trop tard pour limiter le réchauffement à 2°C, d'après 'Nature'
Bisphénol A, les dessous d'un scandale sanitaire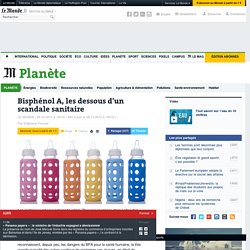 LE MONDE | • Mis à jour le | Par Stéphane Foucart Les archives sont souvent impitoyables. Pour qui se plonge dans celles des revues scientifiques, l'affaire du bisphénol A (BPA) a tous les traits d'un scandale sanitaire mondial, potentiellement l'un des plus graves de la décennie écoulée. Scandale rendu possible par les manoeuvres dilatoires de l'industrie et, surtout, par l'hiatus considérable entre le monde de la recherche académique et la plupart des agences de sécurité sanitaire. Si les agences française et canadienne reconnaissent, depuis peu, les dangers du BPA pour la santé humaine, la très grande majorité des autres continue de minimiser ces risques, en dépit de nombreux signaux d'alerte.
E-PRTR