Secondi
Polpettone classico | Italian Food Net. Ingredienti per 4 persone350 gr Macinato di manzo250 gr Macinato di vitello50 gr Macinato di salsiccia500 ml Latte intero100 gr Parmigiano grattugiato4 Fette di pane bianco2 Spicchi di aglio1 Uovo1 Bicchiere di vino bianco1 Rametto di rosmarino1 Scodella di farina biancaPrezzemoloBurro per friggereOlio extra vergine di olivaSale e pepe nero VIDEO RICETTAPolpettone classico Spezzate le fette di pane con le mani e mettetele dentro una ciotola, aggiungete il latte e fatele ammorbidire.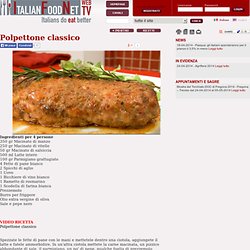 In un'altra ciotola mettete la carne macinata, un pizzico abbondante di sale, il parmigiano, un po' di pepe, qualche foglia di prezzemolo spezzata grossolanamente con le mani e l'uovo.Strizzate bene il pane, aggiungetelo all'impasto della carne e cominciate a impastare con le mani fino a quando l'impasto sarà omogeneo, senza pezzi di pane. Easy Meatballs With Herbs. These easy meatballs are flavored with dried herbs and fresh parsley and baked to perfection.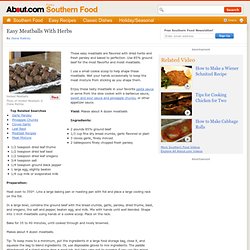 Use 85% ground beef for the most flavorful and moist meatballs. I use a small cookie scoop to help shape these meatballs. Polpette alle erbe aromatiche con salsa di peperoni e paprika. Polpette alle erbe aromatiche con salsa di peperoni e paprika Polpette alle erbe aromatiche con salsa di peperoni e paprika 5 1 Tania Berti Ieri sera per cena ho preparato queste gustose polpettine, accompagnandole con una salsa piccante e bruschette….un piatto buonissimo !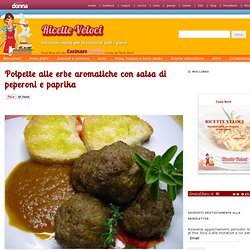 Ginger and Pork Dumplings. Next to Italian, Asian food is one of my most favorite cuisines (btw if you're ever in Birmingham you MUST go to Jensei, and order the Kadoma tuna, I can't stop dreaming about that one along with the tempura green beans oh sweet Mamma).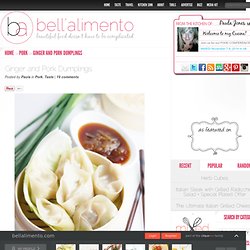 I could eat my weight in sushi, and dumplings don't stand a chance around me. It's embarrassing how many I can eat. I actually shared Ginger Pork Dumplings 4 years ago when I started my blog and I'm sure only 10 people saw it then so I'm revisiting because I'm a dumpling fiend and I think you should be too. Italian stuffed cabbage. Prior to November, what I knew of stuffed cabbage rolls were limited to the Jewish/Eastern European variety, which I make the way my mother-in-law does.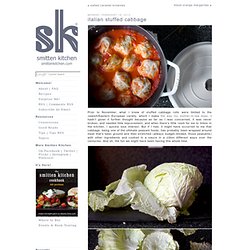 I hadn't given it further thought because as far as I was concerned, it was never broken, and needed little improvement, and when there's little room for me to tinker in the kitchen, I quickly lose interest. But if I had, it might have occurred to me that cabbage, being one of the ultimate peasant foods, has probably been wrapped around meat that's been ground and then stretched (always budget-minded, those peasants) with other ingredients and cooked in a sauce in a zillion different ways over the centuries.
And oh, the fun we might have been having this whole time. Cardamom Chicken with Salt and Pepper Crust Recipe. Bahian Chicken and Shrimp Stew Recipe. Herb Pork Chops with Caramelized Shallots. Herb Pork Chops with Caramelized Shallots I had to adapt this Cooking Light recipe a little bit to suit what I had on hand.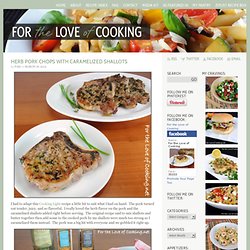 The pork turned out tender, juicy, and so flavorful. I really loved the herb flavor on the pork and the caramelized shallots added right before serving. The original recipe said to mix shallots and butter together then add some to the cooked pork by my shallots were much too strong so I caramelized them instead. The pork was a big hit with everyone and we gobbled it right up.
Ham & Cheese Endive Nachos Recipe. Is it just me, or does the word "nachos" strike a comfort food chord for you too?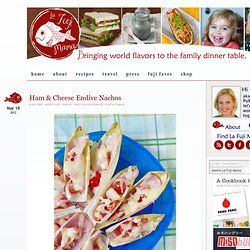 There's something about the combo of crunchy, cheesy, salty, and juicy that tastes so darn good! The non-comforting part about nachos is their tendency to be a bit higher in the calorie and fat counts. Well, I recently came up with a lighter, healthier version of nachos when I needed a quick snack for my kiddos. Creamy Onion Tart Recipe. Home Cooking with Jean-Georges | Clarkson Potter, 2011 For four generations, the Vongerichten family has been turning out this tart, which is like a quiche but creamier.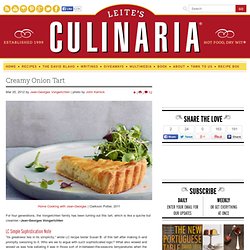 –Jean-Georges Vongerichten. Roast Chicken with Fennel, Potatoes, and Citrus: Recipe. Preheat oven to 450°.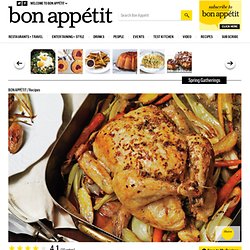 Toast fennel seeds in a small dry skillet over medium heat, stirring often, until fragrant and slightly darker, 2–3 minutes. Let cool; finely grind in spice mill. Mix fennel, lemon zest, garlic, 4 tsp. salt, 1 tsp. pepper, and red pepper flakes in a small bowl. Set spice mixture aside. Tartelette. It looks like the bout of bronchitis going around town has find a way to sneak into our house and beat me to pulp.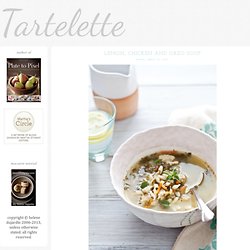 Or at least it feels like it. I can't complain though. Scalloped Hasselback Potatoes. "Scalloped" is an attractive word, isn't it? When I hear it I think of several things: first, there's scallops, as in the seafood—totally delicious. Then there's the scalloped shape that can live on the edge of a pair of shorts or on the collar of a woman's blouse—always pretty and dainty. And of course scalloped potatoes also comes to mind, which carries my imagination to a land of crispy potato skins drenched in a sea of cheese and cream. I can think of no better place to exist, actually. Reuben Bread. Reuben Bread My Irish husband has been demanding Corned Beef lately. Must be something in the air causing this uncontrollable craving… or it must be that St. Posole Stew. Recipe Yield : Serves 8 to 10 Ingredients 3 thick slices slab bacon¾ pound pork shoulder or neck, cut into 1-inch cubes¾ pound lamb shoulder or neck, cut into 1-inch cubesSalt and freshly milled pepper2 medium onions, chopped4 cloves garlic, minced3 to 4 quarts chicken stock, as needed2 pounds dried posole10 fresh green chile peppers-seeded, deveined, and chopped2 teaspoons chopped fresh oregano2 pinches saffron threads¾ pound linguica sausage¾ pound chorizo or Italian sweet sausage1 tablespoon chopped fresh cilantro or parsley Directions.
» Melanzane ripiene - Ricetta Melanzane ripiene. Questa mattina vi do la ricetta per preparare le melanzane ripiene di carne, una vera specialità, dalle mie parti questa preparazione prende il nome di "mulignan mbuttunat" che è una versione più ricca delle classiche melanzane a barchetta preparate invece con un ripieno vegetariano. Vi avevo preannunciato che, dopo le ricette con le zucchine, avrei iniziato con quelle con le melanzane, infatti l'altra sera per cena ho preparato le melanzane ripiene insieme ad altre sfizioserie alle melanzane che troverete nei prossimi giorni sul blog. In questa giornata caldissima forse non vi andrà di accendere il forno per preparare questa ricetta, ma magari ho risolto la cena a qualche temerario che, come me, accende il forno con tranquillità anche se fuori ci sono 40° all'ombra. Buon mercoledì a chi passa di qui! » Pollo ai peperoni alla romana - Ricetta Pollo ai peperoni alla romana. Per questo fine settimana vi lascio una ricetta di un secondo piatto estivo molto saporito, il pollo ai peperoni alla romana, una ricetta semplice semplice da fare, e molto gustosa.
Ho letto in giro che a Roma, soprattutto nella zona dei Castelli, sono soliti preparare il pollo con i peperoni per il pranzo di ferragosto e che il vino più adatto da usare è quello bianco di Frascati, io l'ho preparato l'altra sera per cena ed è stato un successone. Buon weekend amiche mie, io in questi giorni mi dedicherò a mettere a posto la cameretta della bimba (me l'hanno consegnata lunedì e mia mamma dice che sembra la stanza di barbie, bellissima *_*) e andrò a comprare le ultimissime cosine che mancano per il "grande evento". baci a tutti e ci leggiamo lunedì con un bel dolcetto fresco fresco Ingredienti per 4 persone: 1,5 kg di pollo 3 peperoni 3 pomodori maturi 2 spicchi di aglio 1/2 bicchiere di vino bianco sale olio extravergine d'oliva.
» Straccetti pomodorini e rucola - Ricetta Straccetti pomodorini e rucola. » Straccetti di pollo con verdure - Ricetta Straccetti di pollo con verdure. » Spezzatino di tacchino patate e funghi - Ricetta Spezzatino di tacchino patate e funghi. » Ali di pollo alle erbe - Ricetta Ali di pollo alle erbe. Pollo alla Messicana. » Polpettine al rosmarino - Ricetta Polpettine al rosmarino. » Polpettone al forno - Ricetta Polpettone al forno. Chashu Pork (Marinated Braised Pork Belly for Tonkotsu Ramen) Tortilla di patate, ricetta della frittata di patate tipica della Spagna.
---