Secondi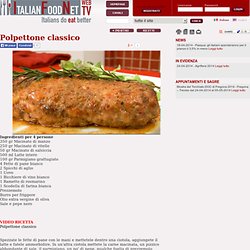 Polpettone classico | Italian Food Net
Ingredienti per 4 persone350 gr Macinato di manzo250 gr Macinato di vitello50 gr Macinato di salsiccia500 ml Latte intero100 gr Parmigiano grattugiato4 Fette di pane bianco2 Spicchi di aglio1 Uovo1 Bicchiere di vino bianco1 Rametto di rosmarino1 Scodella di farina biancaPrezzemoloBurro per friggereOlio extra vergine di olivaSale e pepe nero VIDEO RICETTAPolpettone classico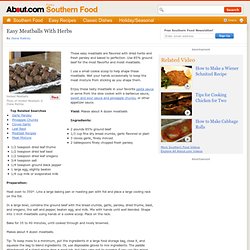 These easy meatballs are flavored with dried herbs and fresh parsley and baked to perfection. Use 85% ground beef for the most flavorful and moist meatballs. I use a small cookie scoop to help shape these meatballs.
Easy Meatballs With Herbs
Polpette alle erbe aromatiche con salsa di peperoni e paprika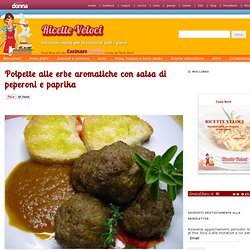 Ieri sera per cena ho preparato queste gustose polpettine, accompagnandole con una salsa piccante e bruschette….un piatto buonissimo ! (3 persone) Mescolare 300 gr di carne macinata scelta, sale, pepe, 1 uovo, un mazzetto di erbe aromatiche tritate (timo, maggiorana, salvia e prezzemolo), poco aglio in granuli, un po' di latte, un cucchiaio di olio extra vergine di oliva, 50 gr di parmigiano grattugiato e 3 cucchiai di pane grattugiato.
Ginger and Pork Dumplings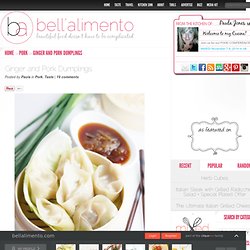 Next to Italian, Asian food is one of my most favorite cuisines (btw if you're ever in Birmingham you MUST go to Jensei, and order the Kadoma tuna, I can't stop dreaming about that one along with the tempura green beans oh sweet Mamma).
Prior to November, what I knew of stuffed cabbage rolls were limited to the Jewish/Eastern European variety, which I make the way my mother-in-law does.
italian stuffed cabbage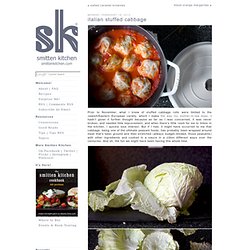 Cardamom Chicken with Salt and Pepper Crust Recipe
Bahian Chicken and Shrimp Stew Recipe
Herb Pork Chops with Caramelized Shallots I had to adapt this Cooking Light recipe a little bit to suit what I had on hand.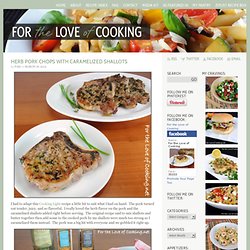 Herb Pork Chops with Caramelized Shallots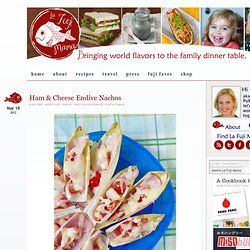 Ham & Cheese Endive Nachos Recipe
Is it just me, or does the word "nachos" strike a comfort food chord for you too?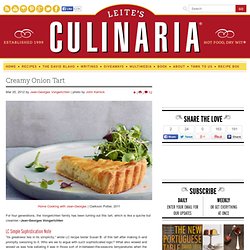 Creamy Onion Tart Recipe
Home Cooking with Jean-Georges | Clarkson Potter, 2011 For four generations, the Vongerichten family has been turning out this tart, which is like a quiche but creamier.–Jean-Georges Vongerichten
Roast Chicken with Fennel, Potatoes, and Citrus: Recipe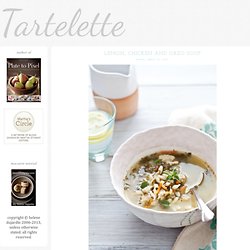 Tartelette
It looks like the bout of bronchitis going around town has find a way to sneak into our house and beat me to pulp. Or at least it feels like it. I can't complain though.
Scalloped Hasselback Potatoes
"Scalloped" is an attractive word, isn't it?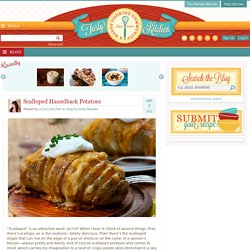 Reuben Bread
Reuben Bread My Irish husband has been demanding Corned Beef lately. Must be something in the air causing this uncontrollable craving… or it must be that St.
» Melanzane ripiene - Ricetta Melanzane ripiene
Questa mattina vi do la ricetta per preparare le melanzane ripiene di carne, una vera specialità, dalle mie parti questa preparazione prende il nome di "mulignan mbuttunat" che è una versione più ricca delle classiche melanzane a barchetta preparate invece con un ripieno vegetariano. Vi avevo preannunciato che, dopo le ricette con le zucchine, avrei iniziato con quelle con le melanzane, infatti l'altra sera per cena ho preparato le melanzane ripiene insieme ad altre sfizioserie alle melanzane che troverete nei prossimi giorni sul blog.
» Pollo ai peperoni alla romana - Ricetta Pollo ai peperoni alla romana
Per questo fine settimana vi lascio una ricetta di un secondo piatto estivo molto saporito, il pollo ai peperoni alla romana, una ricetta semplice semplice da fare, e molto gustosa.
» Straccetti pomodorini e rucola - Ricetta Straccetti pomodorini e rucola
Gli straccetti di vitello con i pomodorini e la rucola sono un secondo piatto fresco e leggero, preparati l'altra sera per cena, hanno riscosso un successone Oltre a questa bella ricetta, questa mattina mi sa che devo dirvi anche qualche altra cosa. Innanzitutto mi sorprendete ogni volta per come siete attente e per come siete care nei miei confronti…siete uniche davvero.
» Straccetti di pollo con verdure - Ricetta Straccetti di pollo con verdure
» Spezzatino di tacchino patate e funghi - Ricetta Spezzatino di tacchino patate e funghi
» Ali di pollo alle erbe - Ricetta Ali di pollo alle erbe
Pollo alla Messicana
» Polpettine al rosmarino - Ricetta Polpettine al rosmarino
» Polpettone al forno - Ricetta Polpettone al forno
Chashu Pork (Marinated Braised Pork Belly for Tonkotsu Ramen)
Tortilla di patate, ricetta della frittata di patate tipica della Spagna