Scratchpad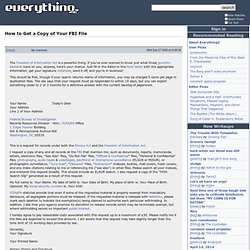 The Freedom of Information Act is a powerful thing. If you've ever wanted to know just what those guvmint bastards have on you, anyway, here's your chance. Just fill in the italics in this form letter with the appropriate information, get your signature notarized , send it off, and you're in business!
Psychology is a relatively new science which gained popularity in the early 20th century with Wilhelm Wundt. In the zeal to learn about the human thought process and behavior, many early psychiatrists went too far with their experimentations, leading to stringent ethics codes and standards. Though these are highly unethical experiments, it should be mentioned that they did pave the way to induct our current ethical standards of experiments, and that should be seen as a positive.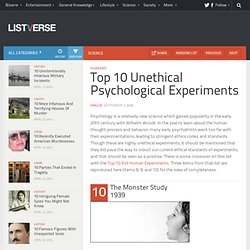 The term 'geek', once used to label a circus freak, has morphed in meaning over the years. What was once an unusual profession transferred into a word indicating social awkwardness. As time has gone on, the word has yet again morphed to indicate a new type of individual: someone who is obsessive over one (or more) particular subjects, whether it be science, photography, electronics, computers, media, or any other field.
Windows 7 Sins — The case against Microsoft and proprietary software - Iceweasel
We Were Hacked! 8 Tips From A Hacking Victim For Minimizing Your Risk :... - StumbleUpon
Computer hacking has become front-page news lately, but many small business owners assume that because they're small potatoes, have a firewall, and use anti-virus software they're immune to a cyber attack. They're dangerously wrong. I know, because it happened to me. The threat Just last week two websites we operate to showcase our research and publications on telework for consumers and researchers were hacked.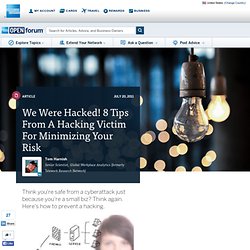 Cellphones Track Your Every Move, and You May Not Even Know
Protect Your Laptop Data from Everyone, Even Yourself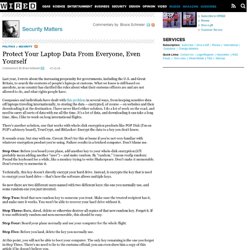 Last year, I wrote about the increasing propensity for governments, including the U.S. and Great Britain, to search the contents of people's laptops at customs. What we know is still based on anecdote, as no country has clarified the rules about what their customs officers are and are not allowed to do, and what rights people have. Companies and individuals have dealt with this problem in several ways, from keeping sensitive data off laptops traveling internationally, to storing the data -- encrypted, of course -- on websites and then downloading it at the destination.