Scratchpad
Future news & vision. Psychology. How to Get a Copy of Your FBI. The Freedom of Information Act is a powerful thing.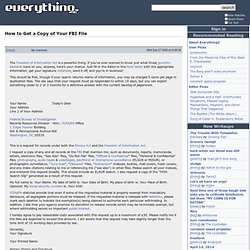 If you've ever wanted to know just what those guvmint bastards have on you, anyway, here's your chance. Just fill in the italics in this form letter with the appropriate information, get your signature notarized, send it off, and you're in business! 10 Psychological States You've Never Heard Of — And When You Experienced Them. Top 10 Unethical Psychological Experiments - Top 10 Lists | Listverse. Humans Psychology is a relatively new science which gained popularity in the early 20th century with Wilhelm Wundt.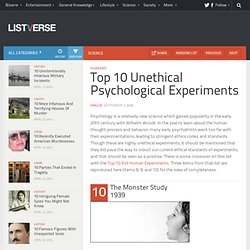 In the zeal to learn about the human thought process and behavior, many early psychiatrists went too far with their experimentations, leading to stringent ethics codes and standards. 70 Things Every Computer Geek Should Know. | Arrow Webzine - StumbleUpon. The term 'geek', once used to label a circus freak, has morphed in meaning over the years.
What was once an unusual profession transferred into a word indicating social awkwardness. As time has gone on, the word has yet again morphed to indicate a new type of individual: someone who is obsessive over one (or more) particular subjects, whether it be science, photography, electronics, computers, media, or any other field. Windows 7 Sins — The case against Microsoft and proprietary software - Iceweasel. We Were Hacked! 8 Tips From A Hacking Victim For Minimizing Your Risk :... - StumbleUpon. Think you're safe from a cyberattack just because you're a small biz?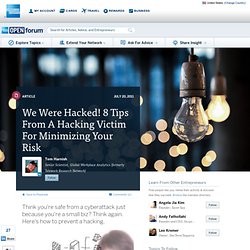 Think again. Here's how to prevent a hacking. July 20, 2011. Cellphones Track Your Every Move, and You May Not Even Know. Cyber Tech. Security/hacking related. Hacker.
---