Writing
Questionnaires for Writing Character Profiles - Creative Writing Help. Enter your e-mail to get the e-book for FREE.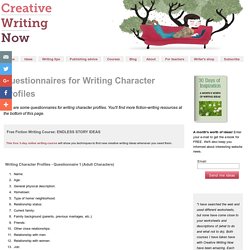 We'll also keep you informed about interesting website news. "I have searched the web and used different worksheets, but none have come close to your worksheets and descriptions of (what to do and what not to do). Both courses I have taken have with Creative Writing Now have been amazing. Each time I have learned something new. The one thing I love, you take everything apart and give examples. " - Katlen Skye. Exercises for Fiction Writers - Page 2. English 50 – Intro to Creative Writing: Exercises for Story Writers More Exercises: Write the first 250 words of a short story, but write them in ONE SENTENCE.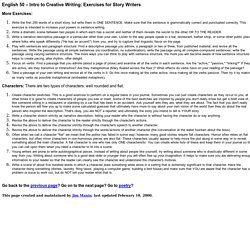 Make sure that the sentence is grammatically correct and punctuated correctly. This exercise is intended to increase your powers in sentence writing. Write a dramatic scene between two people in which each has a secret and neither of them reveals the secret to the other OR TO THE READER. Eight Secrets Which Writers Won't Tell You.
Image from Flickr by Lazurite This is not particularly relevant to the post, but I'm getting an awful lot of comments telling me, often a little snarkily, "it's 'THAT' not 'WHICH'".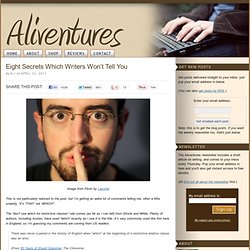 The "don't use which for restrictive clauses" rule comes (as far as I can tell) from Strunk and White. 50 of the Best Websites for Writers. There are tons of reference sites on the web that can help you find a job or write a poem, essay or story.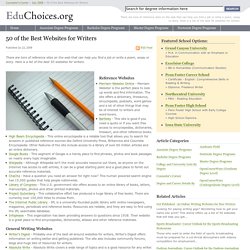 Here is a list of the best 50 websites for writers. Reference Websites. Manuscript Editing Software - AutoCrit Editing Wizard.
Confusing Words. FREE Online Rhyming Dictionary. Fifty (50!) Tools which can help you in Writing. Don't Miss Any Tips!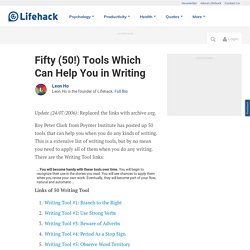 Like us on Facebook Close.
---