Athletics/Sports
EXCLUSIVE - NESN's Jack Edwards Calls Patrice Bergeron's Game 7 GWG. Try To Steal Me The Ball.. The 50 Best Sports Plays Of 2013. Probably the best "behind the head no look" pass ever in basketball. A video guaranteed to make your hands sweat. One of the greatest comebacks ever: Tracy McGrady's 13 points in 33 seconds. Giovanni Van Bronckhorst 'Magical Goal' Vs Uruguay. 2 Pro Football Players vs 55 Kids. Crazy speedriding in Chamonix. Halldor Helgason Full Part. Would you jump from 52 meters hanging from your toes? [VIDEO] One of those days - Candide Thovex. Tracy McGrady 13 Points Vs The Spurs In 33 Seconds HD. World Champion Freestyle Frisbee: Spread the Jam Project (The Great Wall) Insane helmetcam snowmobile ride. Tiger Woods- Best shot ever played. Amazing goal. Some really sick kayaking. Insane surfing at Shipsterns. Half court alley-oop out of a shotgun formation.
Unbelievable stunts, tricks, world records, crashes. Unbelievable Mens Volleyball Rally - UBC vs. Alberta. Grossglockner Backcountry. Rodney Mullen 1984 Japan. Circonvolution improbable. Rad trials bikers. Mountainbiking madness. Red Bull Rampage 2012. Devin Hester punt return vs Duke [2005] Lutzenkirchen's One-handed Grab (Auburn) Best Fake Punt Ever (Bills/Titans) Devin Hester Scores When He Doesnt. NFL Why you should never give up on yourself (Crazy run and tackle) Jokke Sommer Dream Lines Part III. Jeb Corliss " Grinding The Crack". GoPro HD: Avalanche Cliff Jump with Matthias Giraud. Mount Snow Gulch GoPro 360. Insane skills by skier. Freestyle skiing madness by the Legs of Steel crew. 0Stumble Brought to you by Legs of Steel. watch the teaser for our 2012 project here: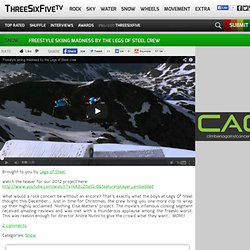 LED snowboarding. Speed-Riding Down The Eiger. The best of Snowboarding 09/10. Snowboarding - One Run With Jordan Phillips - SnowboardCanada.com. Tim Thomas insane save vs Toronto Maple Leaves. Tim Thomas save of the year on Downie 5/23/11 1080p HD. Hasek takes out Gaborik. Amazing goal by Rick Nash against Coyotes.
---