Puzzels/Trivia
Come back every day to play a new puzzle! Answer questions from a wide variety of trivia categories and climb to the top of the trivia pyramid, play a quick and fun game of Trivia 10, or gather up some friends and family members for a round of Trivia Players. Featuring Pat's Gem of a Question and Brain Buster rounds, a high-stakes championship, and everyone's favorite host Pat Sajak! For fast trivia fun, put your money on 'Pat Sajak's Trivia Gems' -- it's a lock!
Pat Sajak's Trivia Gems | Play Pat Sajak's Trivia Gems Free Online | Games.com UK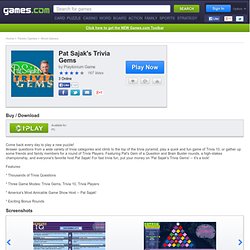 Play Trivia Games Online
Play Free Online Games, Puzzles & Trivia
Happy New Year! Of course, now we have to cope with the consequences of the annual pig-out which is Christmas, followed by the annual alcohol excess of New Year (unless you had the sense to go to... read more This Week's Cash Prize Winner axx 53 Member since 06-05-2011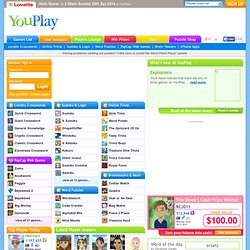 Trivia Games, Fun Trivia Jokes, Puzzles, Quizzes, Trivia News, History, Facts, Celebrity, & Free Online Fun Trivia Games
Free Play with Commercials Why pay $20 for the hottest titles? Family Friendly Fun Entertainment for everyone! 100% Safe No viruses or spyware.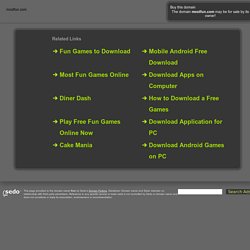 MostFun.com – Play Addicting Online and Downloadable Games for Free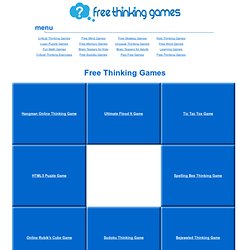 Brain Teasers Thinking Game - This intuitive game requires a lot of brain power. The objective is to remember the colors and shapes that appear on your computer screen. When the game board reappears some of the colors and shapes will have changed. You need to identify the changes. Points will be earned by the amount of objects you identify correctly. You will receive an error for each shape and color you fail to recognize.
Free Thinking Games - Mind Games, Puzzles, and Critical Thinking Activities Online.
Online Trivia, Puzzles and Brain Games
Y8.com is a directory of free flash games. Play a game now! We are adding new fun games every day so please bookmark this page and come back! Unlike other sites, we don't throw tons of ads and popups at you. Our servers are not overloaded so the games we have load fast!
Puzzle Freak FLASH - Play Free Games Online at Y8.com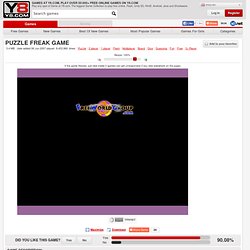 Puzzle Games - Play free online Board Puzzle Games
Free Online Puzzle Games - free Puzzle Games, Word, Mind & Brain Games Online.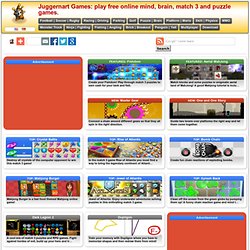 Create your Fishdom! Play through match 3 puzzles to earn cash for your tank and fish. Match blocks and solve puzzles in enigmatic aerial land of MahJong! A good Mahjong tutorial is inclu… Connect a chain around different gears so that they all spin in the right direction. Guide two lovers over platforms the right way and let them come together.
Play Online Puzzle Games, Jigsaw Puzzles Games, Sudoku Puzzle Games and Popular Games in Your Free Time! Newest Games Most Played Puzzle Games Puzzle Games For Download
Puzzle Games - Jigsaw Puzzle Games
Free Online Puzzle Games - 1001 Online Games