Free Photos
People. Free Web Graphics: Where to Get Them (Legally!) Credit: Sterin.genini on Flickr.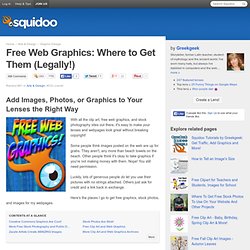 CC. Some Rights Reserved. Creative Commons is a great source for graphics, images, videos and even music, as long as you're willing to follow their terms of use. There's varying levels of Creative Commons licenses, usually indicated by a small graphic and/or two-letter abbreviation beneath the picture on the webpage where it appears: Image * After - currently 27137 free textures and images available. Pictures of Animals -- Animal Photos! Free Stock For Us! S extras. Download 3 high-definition stock photos and illustrations for free!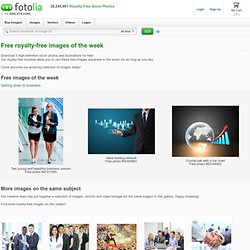 Our royalty-free licenses allow you to use these free images anywhere in the world, for as long as you like. Come discover our amazing collection of images today! Free images of the week Getting down to business Two young and beautiful business women. Radio For All. Free Photos and Wallpapers. FreePhotos.se - Free & Public Domain Photos.
STOCK PHOTOS. Free Pictures of Everything on Earth -- Ookaboo! The online royalty free public domain clip art. Public Domain Image Gallery » Finally Creative LLC » Free Photos Images for Private and Commercial Use. Creative Commons Search. People Pictures - Free images - Royalty free photos. 5000 Free Stock Photos. ImageBase, free images, public domain, free photos. Photo laboratory (Photl.com) - Free Photo Stock, download free stock photo, free photo and images / photl.com. Stockvault.net - Free Stock Photos and Free Images.
Wellcome Images. Free Stock Photos at freerangestock.com - Totally Free Stock Photography and Textures! Prints & Photographs Online Catalog. Photos. Free Stock Photos, Free Images. Public Domain Pictures - Free Stock Photos. The Stock Solution » Free clip art, stock photos, images, pictures. Copyright-Free Photo Archive: Public Domain Photos and Images. The photo archive at Gimp-Savvy.com has more than 27,000 free photos and images saved on our own dedicated server, consisting of over 2.5 Gbytes of data.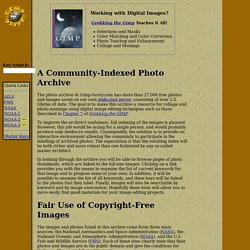 The goal is to make this archive a resource for collage and photo-montage using digital image editing techniques such as those described in Chapter 7 of Grokking the GIMP. To improve the archive's usefulness, full indexing of the images is planned. However, this job would be taxing for a single person, and would probably produce only mediocre results. Openphoto.net home to 15220 images. Free Stock Photos - royalty free with no usage restrictions. PDClipart.org - Public Domain Clip Art. The Best Copyright-Free Photo Libraries: - DotGovWatch Exposing the good, the bad, and the buggy - A Blog Monitoring U.S. Federal, State, and Local Government Websites. Thousands of photos taken by U.S.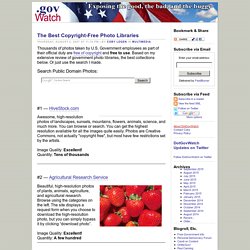 Government employees as part of their official duty are free of copyright and free to use. Based on my extensive review of government photo libraries, the best collections below. Or just use the search I made. Search Public Domain Photos:
---