Technology in Education
How to Embed Evernote Notes.
App Rubrics and Reviews. Project Based Learning. For Teachers – Google in Education. Presentational tools. Technology integration. Edudemic | Technology and Education Resources. Animation. Visual ly. Secure Social Learning Network for Teachers and Students.
EDTEC 470 - Wordle. San Diego State University • Spring 2010 If a picture is worth a thousand words, what is a picture of words worth?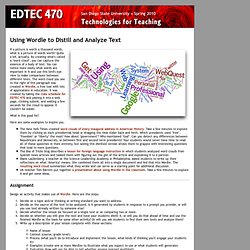 Quite a bit, actually. By creating what's called a "word cloud", you can capture the essence of a body of text. You can notice more easily what words are important in it and use this bird's eye view to make comparisons between different texts. The word cloud you see to the right of this paragraph was created in Wordle, a free tool with lots of applications in education. My Pearls. Bloggers.
---