Educational Forums
2011 Conference - The Global Education Collaborative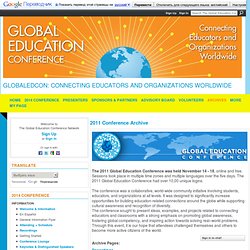 The 2011 Global Education Conference was held November 14 - 18, online and free. Sessions took place in multiple time zones and multiple languages over the five days. The 2011 Global Education Conference had over 10,00 unique logins. The conference was a collaborative, world-wide community initiative involving students, educators, and organizations at all levels. It was designed to significantly increase opportunities for building education-related connections around the globe while supporting cultural awareness and recognition of diversity.
ISTE UNPLUGGED - HOME
The Library 2.013 collaboration is a grand example of emerging community on a global scale. Both the session topics and the very act of connecting to professional colleagues around the globe brings fresh perspectives and vibrancy to the world of ideas and information.– Craig Seasholes Library 2.0 is an incredible event that I hope to be part of in the future!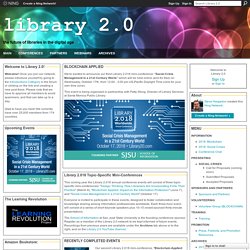 http://www.classroom20.com/
http://www.futureofeducation.com/
Web 2.0 Labs - Welcome