Educational Forums
2011 Conference - The Global Education Collaborative. The 2011 Global Education Conference was held November 14 - 18, online and free.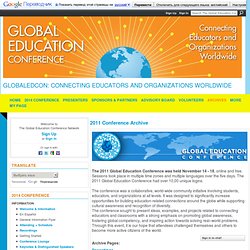 Sessions took place in multiple time zones and multiple languages over the five days. The 2011 Global Education Conference had over 10,00 unique logins. The conference was a collaborative, world-wide community initiative involving students, educators, and organizations at all levels. It was designed to significantly increase opportunities for building education-related connections around the globe while supporting cultural awareness and recognition of diversity. ISTE UNPLUGGED - HOME. Library 2.0 - the future of libraries in the digital age. Teacher 2.0 - Your Personal and Professional Growth.
Web 2.0 Labs - Welcome.
---