eLearning Apps
Digital Tools for Teachers. Top 100 Tools for Learning 2009. Top 100 Tools for Learning 2009 as at 15 November 2009 This list has been compiled from the contributions of 278 Learning Professionals worldwide, whose individual contributions you can read here Here is a presentation of the Top 100 Tools.
Below you can see the full list with links to pages with more information about each of the tools. KEY F = Free, C= Commercial, W = Windows, M=Mac, S=Server, O = Online Cells shaded blue are new tools on the list this year Cells shaded green are tools returning to the list this year. Edu 2.0: the free, easy way to teach and learn online.
First Top 25 eLearning Posts of 2010 - Best of eLearning Learnin. eLearning Tools. Education 2.0 - Edmodo - Free Private Social Platform For Educat. Welcome to MyRocketbook.com | MyRocketbook.
Personal Learning Networks. Recently, I did a special guest post on Buffy Hamilton's amazing blog regarding Personal Learning Networks.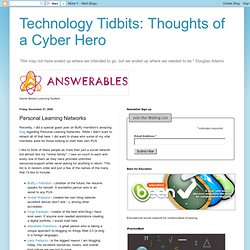 While I didn't want to rehash all of that here, I did want to share who some of my vital members were for those looking to start their own PLN. I like to think of these people as more then just a social network but almost like my "online family". I owe so much to each and every one of them as they have provided unlimited resources/support while never asking for anything in return. This list is in random order and just a few of the names of the many that I'd like to include. Home. My Top Ten e-Learning Tools. Visuwords™ online graphical dictionary and thesaurus.
Study Tips for Everyone | Athens Learning | College Preparedness. Teaching technology to promote learning: Tools. Let's give them. In this decade of digital communication including texting, collaboration, social learning, presentations, wikis, rss feeds and blogs we must now make available to students and teachers tools that promote and enhance a style of teaching and learning that promote the development of skills.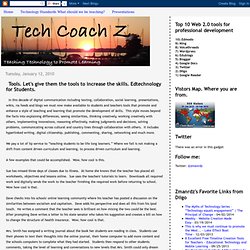 This style moves beyond the facts into explaining differences, seeing similarities, thinking creatively, working creatively with others, implementing innovations, reasoning effectively, making judgments and decisions, solving problems, communicating across cultural and country lines through collaboration with others. It includes hyperlinked writing, digital citizenship, publishing, commenting, sharing, networking and much more. Teaching And Learning Algebra 1 Using Web 2 [Autosaved] Using PowerPoint in Online Courses.
---