Fuse
John Eberly » How I automated my backups to Amazon S3 using rsyn
The following is how I automated my backups to Amazon S3 in about 5 minutes. I lot has changed since my original post on automating my backups to s3 using s3sync . There are more mature and easier to use solutions now. I am switching because using s3fs gives you much more options for using s3, it is easier to set up and it is faster.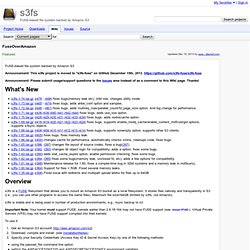 FuseOverAmazon - s3fs - Google Code
FUSE-based file system backed by Amazon S3 Announcement: Please submit usage/support questions to the Issues area instead of as a comment to this Wiki page. Thanks!
November 17th, 2007 mysurface Posted in Admin , curlftpfs , mount , sudo , umount | Hits: 88830 | 17 Comments » I have wrote a post regarding on how to access ftp host using curl . And this time, let us look at how to mount the ftp host to a local directory on top of FUSE. FUSE (Filesystem in userland) is a userland build on top of virtual filesystem, it allows you to implement functional filesystem in userspace application.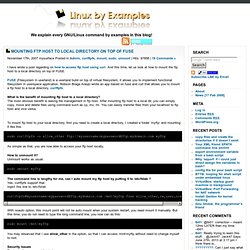 Mounting ftp host to local directory on top of FUSE » Linux by E