21-30
58 sites de. Dans un article désopilant de Stéphanie Estournet (pour le quotidien Libération) « Cinq sites pour minus » avec une longue introduction truculente à mettre entre les mains des parents qui croient que les enfants sont des petits génies de l'informatique ; la journaliste nous présente une sélection de 5 espaces Web où les moins de 6 ans peuvent s'ébrouer en paix (en silence ou en bruit), créer, imaginer, rêver et construire à travers des univers imaginaires qui versent dans le dépaysement et l'aventure.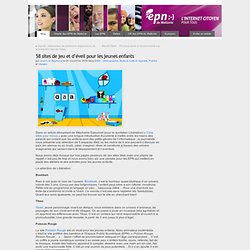 Nous avons déjà évoqué sur nos pages plusieurs de ces sites Web mais une piqûre de rappel n'est pas de trop et nous avons bien sûr une pensée pour les EPN qui mettent en place des ateliers et des activités pour les jeunes enfants. La sélection de Libération : Boohbah Rien à voir avec le nom de l'ourson. Exactitudes® Lyrics Training - Improving your foreign languages skills. Looking Into the Past. Build your own kaleidoscope :: zefrank. PHUN. How old is the Internet? E-coloriage, 40 gestes illustrés pour sauvegarder la planète. Pipotron. Even retro record covers can be used to create something amazing. There are those who will throw away their old record covers but there are those that will use them to create some mind blowing artistic stuff.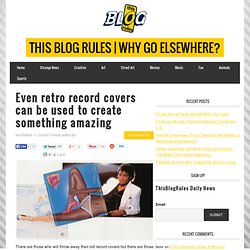 One of them is definitely Christian Marclay, a New York visual artist, DJ and composer who used record covers of Michael Jackson , Doors, Donna Summer, David Bowie and many others for this piece of art. The relationship of sound, vision, music, art and performance is the focus of his work. Check out this hilarious 70s record covers, somewhere from Eastern Europe, and today's blast and.
---