Source Infographie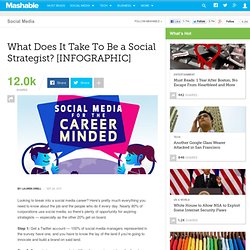 Looking to break into a social media career? Here's pretty much everything you need to know about the job and the people who do it every day.
Infographie : profil type du community manager en France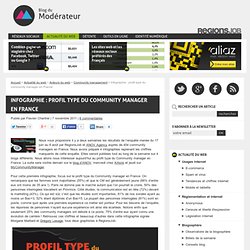 Nous vous proposions il y a deux semaines les résultats de l'enquête menée du 17 juin au 8 août par RegionsJob et ANOV Agency auprès de 454 community managers en France. Nous avons préparé 4 infographies reprenant les chiffres marquants de cette enquête. Elles seront publiées tout au long de la semaine sur 4 blogs différents. Nous allons nous intéresser aujourd'hui au profil type du Community manager en France.
6000 années de publicité en une infographie « Nuwave Marketing Nuwave Marketing
presents our new infographic
Infographie des marques présentes sur Twitter par TBWA Corporate
By Arik Hanson | Posted: October 3, 2011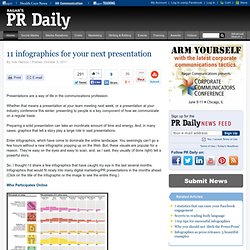 11 infographics for your next presentation
Have you ever been curious what the six biggest websites on the Internet are, how many visitors they get, as well as the breakdown in demographics for those visitors? Well now you can satisfy your curiosity with MakeUseOf's new infographic, designed by Dona Collins who is an infographic artist, blogger, teacher, and a writer of financial articles for CreditLoan.com. We have had to shrink the infographic to make it fit onto our page so if you are unable to read any part of it, just click on it and you'll be taken to a copy of the original.
The Six Biggest Websites On The Internet Compared [Infographic]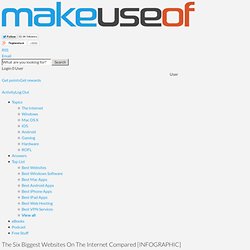 the_roi_of_social_media_mdg_advertising_infographic.png (1000×4016)
The Anatomy of a Fan (Infographic) | Moontoast
Facebook "Likes" have become the unassuming links between people and brands. These hooks, along with convenient login options like Facebook Connect, are giving brands more insight into who their customers are. Here we take a look at the level of information a brand can access when people interact with them in different ways.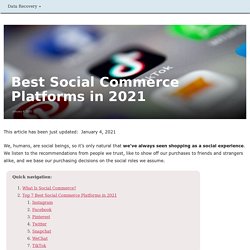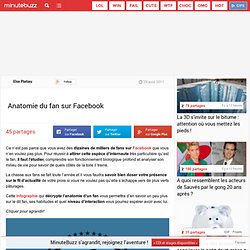 Ce n'est pas parce que vous avez des dizaines de milliers de fans sur Facebook que vous n'en voulez pas plus. Pour réussir à attirer cette espèce d'internaute très particulière qu'est le fan, il faut l'étudier, comprendre son fonctionnement biologique profond et analyser son milieu de vie pour savoir de quels côtés de la toile il traine.
Anatomie du fan sur Facebook
[Infographie] La situation amoureuse sur Facebook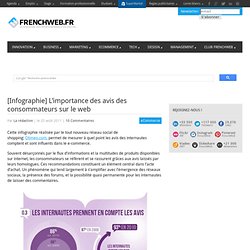 Cette infographie réalisée par le tout nouveau réseau social de shopping: Olimeo.com, permet de mesurer à quel point les avis des internautes comptent et sont influents dans le e-commerce. Souvent désarçonnés par le flux d'informations et la multitudes de produits disponibles sur internet, les consommateurs se réfèrent et se rassurent grâces aux avis laissés par leurs homologues. Ces recommandations constituent un élément central dans l'acte d'achat. Un phénomène qui tend largement à s'amplifier avec l'émergence des réseaux sociaux, la présence des forums, et la possibilité quasi permanente pour les internautes de laisser des commentaires.
[Infographie] L'importance des avis des consommateurs sur le web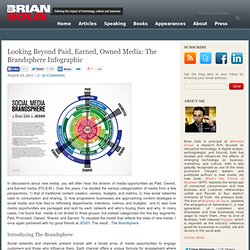 New Infographic: The Brandsphere by Brian Solis and JESS3 Brian Solis
In discussions about new media, you will often hear the division of media opportunities as Paid, Owned, and Earned media (P.O.E.M.). Over the years, I've studied the various categorization of media from a few perspectives, 1) that of traditional content creation, owners, budgets, and metrics, 2) how social networks cater to consumption and sharing, 3) how progressive businesses are approaching content strategies in social media and how they're rethinking departments, intentions, metrics, and budgets, and 4) also how media opportunities are packaged and sold by each network and who's buying them and why. In many cases, I've found that media is not limited to three groups, but instead categorized into five key segments: Paid, Promoted, Owned, Shared, and Earned.
Wickware_Infographic.JPG (600×2232)
Pourquoi les généraux sont si bêtes ? Parce qu'ils sont recrutés parmi les colonels. [Jean Cocteau]
5 minutes pour obtenir un job dans les médias sociaux | Le Blog de Jean-Noël Chaintreuil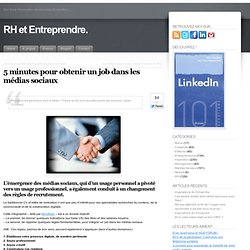 Google+ a fait le buzz depuis sa sortie. Et pour cause, on attendait un coup réussi de google dans le domaine des réseaux sociaux.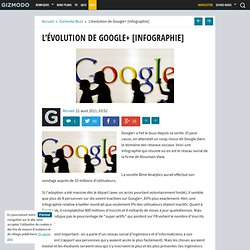 L'évolution de Google+ [infographie]
Vous avez l'âme d'un Spielberg? D'un Bay? Ou d'un Dorcel?
[Infographie] Tu te fais des films!
tp://www.kesako-le-blog.fr/2011/08/16/twitter-faits-et-chiffres-infographie/
This Infographic Shows Where There's Hope For Print Newspapers
What makes a happy vs. sad, disengaged worker
Bonjour! Si vous visitez Emarketinglicious pour la 1ère fois, abonnez-vous à notre flux RSS pour recevoir nos dernières actualités. Les infographies sont de nos jours très populaires. Elles permettent de proposer des informations de façon visuelle et synthétique. Leur présentation esthétique attrayante et leur caractère unique font qu'elles sont très appréciées des internautes qui en échange sont plus disposés à les partager avec leurs contacts, à créer des liens pointant vers ces ressources ou encore à les sauvegarder en ligne.
Le Guide Essentiel Pour Faire Des Infographies
Infographie : Quels avantages pour Google+, Facebook et Twitter
Depuis le lancement de Google+ , les autres réseaux sociaux ne cessent de faire parler d'eux.
Following Twitter
the-power-of-twitter.gif (1770×1420)
ressources pour les curieux et les pros du web 2.0 |
eg8-buzz-DAYS-1-and-2-SYNTHESIO.png (1201×3935)
Fullsize - http://yfrog.com/h2fuuggj
brictop100.jpg (1319×2902)
applegrowth.jpg (1319×2902)
b1a04192-6318-41bf-849a-a624976d4254 (3600×4320)
Infographic: 7 out of 10 copywriters believe they'll be screenwriters
Company Blog - Breaking Bin Laden: visualizing the power of a single tweet
SOCIAL-LANDSCAPE-R5.jpg (697×1200)
press_vf.jpg (2441×2481)
Twitter - 5 ans résumés en 1 image
Infographie : les marques sur Facebook
Social Commerce @ SXSW – What Ogilvy Learned [infographics
Alterian-Annual-Survey-Infographic.png (960×1536)
Infopornographie
A day in the life of a social media manager
Socialcurrency-infograph.jpg (600×2405)
Infographic: How Social Media Strengthens Companies
Interactive Infographic Visualizes Twitter Ecosystem
50 faits fascinants sur les médias sociaux en 2010 | PassioN @Net
Facebook vs Twitter [Infographic]
//tech : Wi Qui ? - ant1//posterous
market-share-large.png (1280×960)
Infographie – Facebook vs Twitter en 2010 | LE MARKETING SUR LE WEB
Le digital dans la santé, en infographie, ça donne quoi ?
En une seule image, infographies du web - L'historique de Youtube
163413_479288597199_9445547199_5658562_14158417_n.jpg (2368×1179)
Eight cool social media infographics | Blog
7 Creative and Interesting Infographics about Twitter | TechXav:
Les métiers du web social — Infographie
En une seule image