Food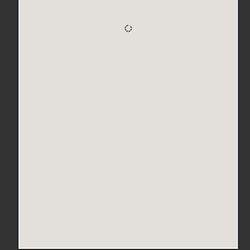 Week One - Kathy Freston's Vegan Menu Plan
Excerpted from Veganist: Lose Weight, Get Healthy, Change the World, by Kathy Freston. Available from Weinstein Books, a member of The Perseus Books Group. Copyright ©2011. Monday Breakfast: Steel-cut oatmeal, sliced bananas, walnuts, rice milk Lunch: Whole grain pasta with veggie sausages, sun-dried tomatoes, broccoli; salad
Six Tips: How to Go Vegan or Vegetarian in 2009
It's a new year and if you or a loved one is looking to GO VEG in 2009, by experimenting with a vegan or vegetarian diet, this is the post for you! These are 6 tips to help you along your road to veggie living. I recently read some advice, from Katie Molinaro of The Huffington Post, that I strongly disagree with. She says about embarking on a new veggie diet: I think this is horrible advice.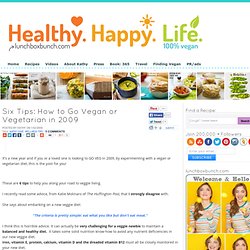 Tempeh Nutrition Facts and Recipes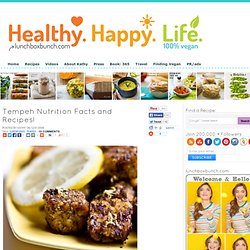 Tempeh is a soy product made by fermenting whole soybeans. Tempeh is a super food. Sadly, I've found many people have never even heard of tempeh! Wha?! How?! It's so yummy!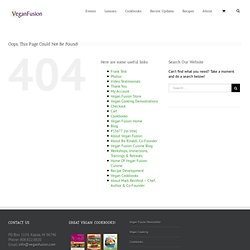 Free Vegan Recipe: Raw Food Cinnamon Apple Pancakes | VeganFusion.com
by Jennifer Murray of About.com These fancy raw food pancakes or flapjacks take some time in the dehydrator but are a fantastic addition to a raw food breakfast. The harder the dates, the longer you'll need to soak them. Thirty minutes at least, even for relatively soft dates, is normal. You want them to blend up evenly and provide the raw batter with stickiness. You'll probably find these raw food pancakes to be sweet enough on their own, but if you can handle a little more decadence, try some Raw Almond Vanilla Spread to go with them.
Not Eating Out in New York
Caribbean recipes
Caribbean Recipes | Free and Easy Caribbean Recipes
Drink Alternatives
We are the premier mixed drink recipe, alcohol and how to cocktails website! We have tens of thousands of non-alcoholic, alcoholic recipes, cocktail recipes, bartending, shot and shooter drink recipes. These alcoholic and non-alcoholic beverages are sure to please you and your party guests. At iDRINK, you can enter the ingredients that you have around the house, bar, party, etc., and we'll tell you what drinks recipes you can make and how to make them!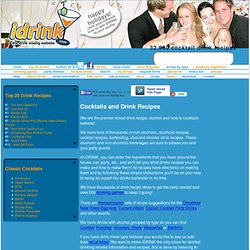 Drink Recipes: Over 32000 Mixed Drinks Recipes
Nyonya Food: Straits Chinese and Peranakan Recipes