Alfred the Great
In his royal villa at Chippenham, on the left bank of the gently flowing Avon, sat King Alfred, buried in his books. It was the evening of the 6th of January, in the year 878, a thousand years and more backward in time. The first of English kings to whom a book had a meaning,—and the last for centuries afterwards,—Alfred, the young monarch, had an insatiable thirst for knowledge, a thirst then difficult to quell, for books were almost as rare as gold-mines in that day. When a mere child, his mother had brought to him and his brothers a handsomely illuminated book, saying,— "I will give this to that one of you four princes who first learns to read." Alfred won the book; so far as we know, he alone sought to win it, for the art of reading in those early times was confined to monks, and disdained by princes.
Heritage History presents Historical Tales - English by Charles Morris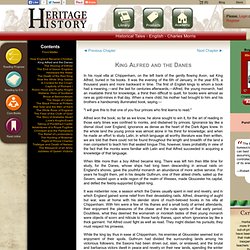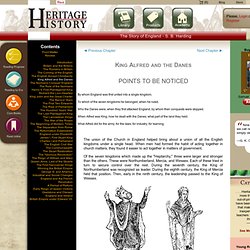 Heritage History presents The Story of England by S. B. Harding
By whom England was first united into a single kingdom. To which of the seven kingdoms he belonged; when he ruled. Who the Danes were; when they first attacked England; by whom their conquests were stopped.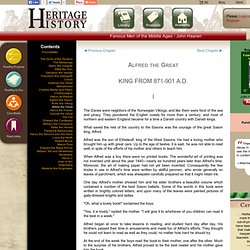 The Danes were neighbors of the Norwegian Vikings, and like them were fond of the sea and piracy. They plundered the English coasts for more than a century; and most of northern and eastern England became for a time a Danish country with Danish kings. What saved the rest of the country to the Saxons was the courage of the great Saxon king, Alfred. Alfred was the son of Ethelwulf, king of the West Saxons.
Heritage History presents Famous Men of the Middle Ages by John Haaren
www.royal.gov.uk/pdf/alfred.pdf
On a summer day nearly twelve hundred years ago, three ships with bright red sails drew near to one of the little ports of the Dorset coast in the south of England. The townsfolk saw the ships, and paying no heed to the bright sails, said carelessly one to another, 'The merchantmen will be in port to-day.' And the harbour-master gathered together a few of his men and hastened to the quay. For he, too, had seen the ships, and, as in duty bound, he went to meet them, to demand from the captains the port taxes which were lawfully due to the king. But townsfolk and harbour-master alike had made a grievous mistake that summer day. For, as they soon discovered to their cost, and as the red sails might have forewarned them, the three ships were no peaceful merchantmen.
Heritage History presents Stories of the Vikings by Mary Macgregor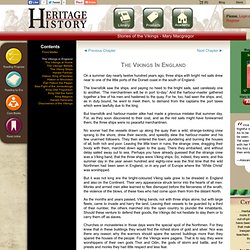 Complete, illustrated texts of over 400 classical children's histories are available to view online. All books are also available to download in both PDF and ebook format. Our Young Readers Curriculum was created especially for families with grade-schoolers.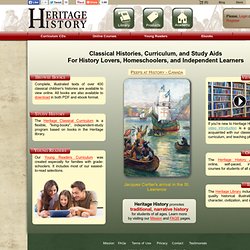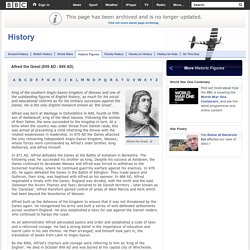 Alfred the Great © King of the southern Anglo-Saxon kingdom of Wessex and one of the outstanding figures of English history, as much for his social and educational reforms as for his military successes against the Danes. He is the only English monarch known as 'the Great'. Alfred was born at Wantage in Oxfordshire in 849, fourth or fifth son of Aethelwulf, king of the West Saxons. Following the wishes of their father, the sons succeeded to the kingship in turn. At a time when the country was under threat from Danish raids, this was aimed at preventing a child inheriting the throne with the related weaknesses in leadership. In 870 AD the Danes attacked the only remaining independent Anglo-Saxon kingdom, Wessex, whose forces were commanded by Alfred's older brother, King Aethelred, and Alfred himself.
History - Alfred the Great
Viking ships English monastic culture was to be seriously disturbed (like that in Ireland as well) because of developments in Scandinavia. In the 8th century the Scandinavians became expansionist and began raiding neighbouring coasts. Initially, this just consisted of marauding and plundering of places of wealth and they always returned back to home base.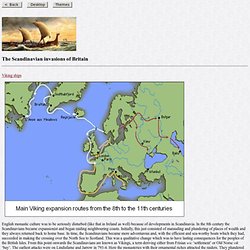 Scandinavian invasions of Britain
Alfred, also spelled Aelfred, byname Alfred The Great (born 849—died 899), king of Wessex (871–899), a Saxon kingdom in southwestern England. He prevented England from falling to the Danes and promoted learning and literacy. Compilation of the Anglo-Saxon Chronicle began during his reign, c. 890. When he was born, it must have seemed unlikely that Alfred would become king, since he had four older brothers; he said that he never desired royal power. Perhaps a scholar's life would have contented him.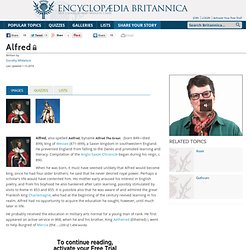 Alfred (king of Wessex
King Alfred the Great (849-899) Born: AD 849 at Wantage, Berkshire King of England Died: 26th October AD 899 at Winchester, Hampshire Alfred was the youngest son of King Aethelwulf and his wife, Osberga. He was born at the Royal Palace of Wantage (Berkshire) in AD 849. He was brought up and educated by his mother and a famous story tells how she once promised an expensive illuminated book to the first of her children to learn to read it.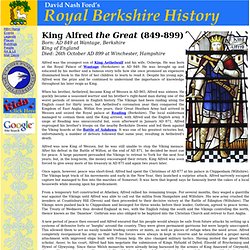 RBH Biography: King Alfred the Great (849-899)
English Monarchs - Kings and Queens of England - Alfred the Great.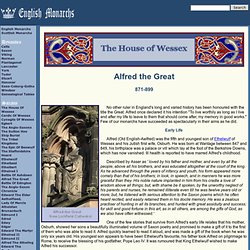 No other ruler in England's long and varied history has been honoured with the title the Great. Alfred once declared it his intention "To live worthily as long as I live and after my life to leave to them that should come after, my memory in good works." Few of our monarchs have succeeded as spectacularly in their aims as he did.
History of the Monarchy > The Anglo-Saxon kings > Alfred 'The Great'