Learn coding and Programming per s#sw guys
Yipit Django Blog. Learning Python, 3rd Edition  It starts off with background information about Python.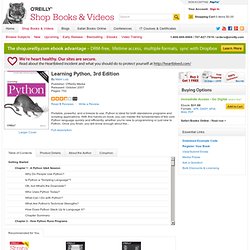 What is it, where did it come from, how do you start Python programs etc. Then it continues with the basic principles of how Python works. Python's basis differs quite a bit from other popular languages and the book makes the differences easy to understand. It then continues to the actual programming syntax. By now, you'll have read some 200 pages of background information so you'll understand how python works before you start writing anything in it. Ruby on Rails Tutorial: Learn Rails by Example book and screencasts by Michael Hartl. The "Small Steps" It Takes to Build a Multibillion Dollar Business.
---