Learn coding and Programming per s#sw guys
Yipit Django Blog
The following is the first in a series of blog posts on Search at Yipit. The ability to search for information is something our generation takes for granted; almost any piece of knowledge on the internet is only a few keystrokes away via Google. Even though most users only see the end product (a user-facing query input box, and the resulting list of hits), the technology behind search is fascinating, bringing together applied academic theory, computer systems architecture, and application development. Recently, I have been working on optimizing the performance of our own search engine at work, and I now have a much better appreciation for this technology. This post is a non-tech-heavy overview of how our implementation of search works, to give a sense of how cool the concepts and challenges are even to readers who may not have a technical background.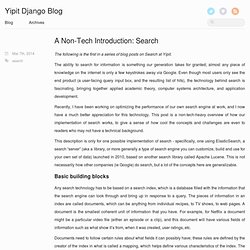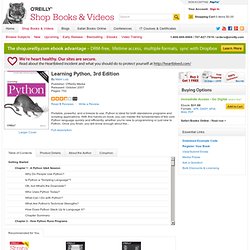 It starts off with background information about Python. What is it, where did it come from, how do you start Python programs etc. Then it continues with the basic principles of how Python works. Python's basis differs quite a bit from other popular languages and the book makes the differences easy to understand. It then continues to the actual programming syntax. By now, you'll have read some 200 pages of background information so you'll understand how python works before you start writing anything in it.
Learning Python, 3rd Edition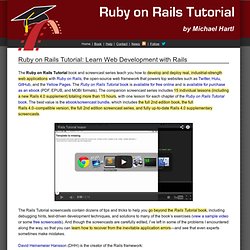 Ruby on Rails Tutorial: Learn Web Development with Rails The Ruby on Rails Tutorial book and screencast series teach you how to develop and deploy real, industrial-strength web applications with Ruby on Rails, the open-source web framework that powers top websites such as Twitter, Hulu, GitHub, and the Yellow Pages. The Ruby on Rails Tutorial book is available for free online and is available for purchase as an ebook (PDF, EPUB, and MOBI formats). The companion screencast series includes 15 individual lessons (including a new Rails 4.0 supplement) totaling more than 15 hours, with one lesson for each chapter of the Ruby on Rails Tutorial book. The best value is the ebook/screencast bundle, which includes the full 2nd edition book, the full Rails 4.0–compatible version, the full 2nd edition screencast series, and fully up-to-date Rails 4.0 supplementary screencasts.
The "Small Steps" It Takes to Build a Multibillion Dollar Business