Entrepreneurship
You've either started a company or you haven't. "Started" doesn't mean joining as an early employee, or investing or advising or helping out.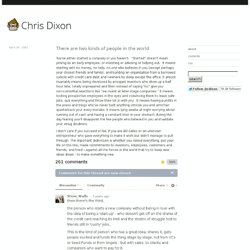 There are two kinds of people in the world
The Power of Negative Thinking
"If it disagrees with experiment, it is wrong!"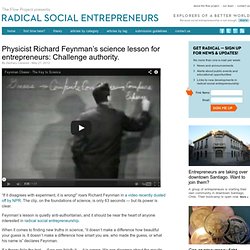 Physicist Richard Feynman's science lesson for entrepreneurs: Challenge authority. | Radical Social Entrepreneurs
Entrepreneurs Are Tough To Be With
Work harder on yourself than you do on your startup
"Work harder on yourself than you do on your job." - Jim Rohn A long time ago, I came across the amazing quote above, which was said often by Jim Rohn. It stook in my mind, and as the years have gone on, I feel I've increasingly started to learn the true meaning of it.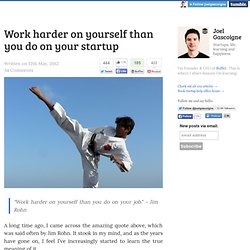 The Top 50 Startups Blogs to Watch in 2012 - Entrepreneur Blog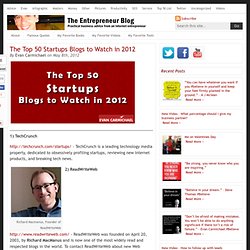 1) TechCrunch http://techcrunch.com/startups/ - TechCrunch is a leading technology media property, dedicated to obsessively profiling startups, reviewing new Internet products, and breaking tech news. Richard Macmanus, Founder of ReadWriteWeb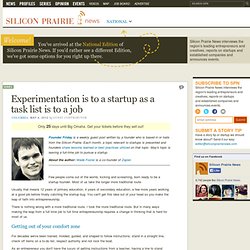 Experimentation is to a startup as a task list is to a job
Founder Friday is a weekly guest post written by a founder who is based in or hails from the Silicon Prairie.
Different hiring techniques
Founders and Dysfunctional Families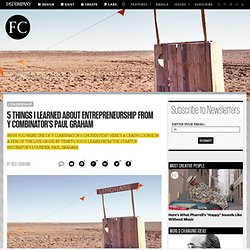 Paul Graham (PG) is one of the most prominent figures in Silicon Valley's entrepreneurial community, and his reputation is well-deserved. He's an honest leader, a talented computer scientist, and has an uncanny passion for entrepreneurship. Most importantly, he's an entrepreneur himself.
5 Things I Learned About Entrepreneurship From Y Combinator's Paul Graham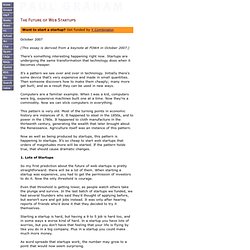 October 2007
The Future of Web Startups
Action Trumps Everything. the best way to predict the future is
Social Networking Software Websites
People love to talk about whether there is a peak age for entrepreneurship. Who wins, the 20-something just out of college with unlimited energy, no family or other obligations, who's too naïve to know what he can't do and isn't afraid to break the rules?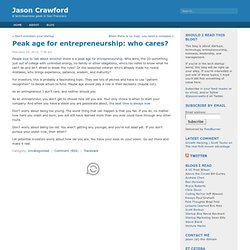 Peak age for entrepreneurship: who cares?
The Pitch: Vote For The Best Technology Startups
Editor's note: Adam Rodnitzky is a serial entrepreneur and co-founder of Favo.rs. He programmed his first startup using ColdFusion in 1999. Rodnitzky is based in San Francisco, and you can follow him on Twitter @rodtwitzky.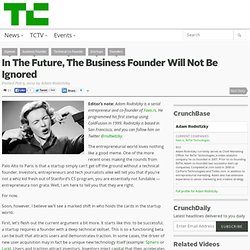 In The Future, The Business Founder Will Not Be Ignored
These are the only things you need to do to be successful*. You can get away with just doing one of the two, but that's rare, and usually someone else is doing the other part for you. If you you don't have any marketable skills, learn some.
Do Things, Tell People.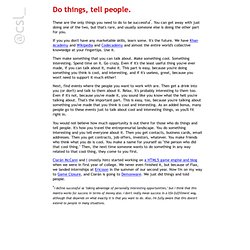 How Three Germans Are Cloning the Web
A purple rooster sculpture made from recycled grape Fanta bottle labels. Clocks designed to hang in corners.
Gotta hand it to Microsoft, they're taking this documentary stuff seriously.
Microsoft's new documentary about startups is brutally honest about Microsoft
Christian Renaud encouraged Summit attendees to be proud of the Midwest startup style in his morning keynote. Christian Renaud, a co-founder of the technology startup incubator StartupCity Des Moines, focused on the idea of the Silicon Prairie ecosystem in kicking off the sixth annual Nebraska Summit on Entrepreneurship on Friday.
'Go build it,' Renaud tells Summit crowd in ecosystem-focused address
Kiene closes Summit with 'You might be a Nebraska entrepreneur if…'
"You might be a Nebraska entrepreneur if you believe in quality before quantity," Steve Kiene (left) told the crowd during his closing keynote at last Friday's Nebraska Summit on Entrepreneurship.