PATRIOT ACT USA
22-01.
BANK SECRECY ACT
USA Patriot Act. USA PATRIOT Act. The USA PATRIOT Act is an Act of Congress that was signed into law by President George W.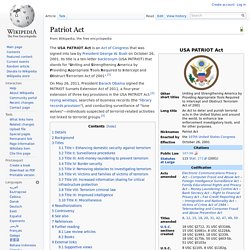 Bush on October 26, 2001. The title of the act is a ten-letter backronym (USA PATRIOT) that stands for Uniting and Strengthening America by Providing Appropriate Tools Required to Intercept and Obstruct Terrorism Act of 2001.[1] On May 26, 2011, President Barack Obama signed the PATRIOT Sunsets Extension Act of 2011,[2] a four-year extension of three key provisions in the USA PATRIOT Act:[3] roving wiretaps, searches of business records (the "library records provision"), and conducting surveillance of "lone wolves"—individuals suspected of terrorist-related activities not linked to terrorist groups.[4] Details[edit] From broad concern felt among Americans from both the September 11 attacks and the 2001 anthrax attacks, Congress rushed to pass legislation to strengthen security controls. PATRIOT Act clouds picture for tech - POLITICO.com Print View. Cloud computing is a gold mine for the U.S. tech industry, but American firms are encountering resistance from an unexpected enemy overseas: the PATRIOT Act.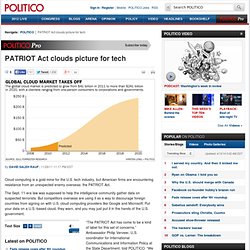 The Sept. 11-era law was supposed to help the intelligence community gather data on suspected terrorists. But competitors overseas are using it as a way to discourage foreign countries from signing on with U.S. cloud computing providers like Google and Microsoft: Put your data on a U.S. -based cloud, they warn, and you may just put it in the hands of the U.S. government.
---