NEWS On BANX
Mis-selling scandal will see HSBC cut executives' bonuses
World_Bank_President_Stepping_Down
U.K. 50 Billion Injection
StockACT Law Maker Insider Trading Bill
Ben Bernanke Baron Green_Back Counterfieter
Financial CrimeZ Task_Force
Insider Trading 30Day DBase RuleZ
Bail O.U.T. The Truck LoadZ Of Cash
Cash_Transaction Banning!!!
Morgan Stanley Bonuses Capped @ $125,000
Everything You Need to Know About Wall Street, in One Brief Tale | Matt Taibbi | Rolling Stone
The PeopleZ Oppinion On The Poverty GAP
Did Henry Paulson tip off hedge fund managers on Fannie and Freddie
Head of Swiss National Bank denies insider trading | Europe | Deutsche Welle | 09.01
GOLDMAN Downgraded By Wells Fargo
455 Billion Record ECB Deposit Jan 2012
BankZ Still Vulnerable To Cyber Attacks
China currency Manipulation
Brazil TakeZ Over UK Economy
Japan WarnZ England To Make A Stronger BackUp Fund!!!
Pay Role TAX Continuation By Jeremy Holcombe Contributing writer for Goldco Direct and End the Lie The gold standard: ever heard of it? Most people haven't, yet it remains an important part of gold history, and it may serve us well if we got back on it. So what exactly was "the gold standard?" The gold standard was essentially a commitment by several participating countries to fix the prices of their respective domestic currencies in terms of specific amount of gold.
The gold standard: what is it and should we return to it?
HSBC Sells Japan Private Bank To Credit Suise
The bankruptcy case filed by Harrisburg, Pennsylvania, the state capital, was thrown out by a judge who ruled the city council wasn't authorized to file the petition.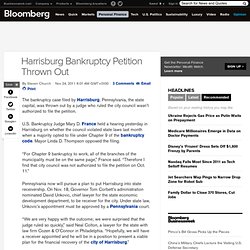 Harrisburg Bankruptcy Petition Thrown Out
85,000 In Credit Union Covered By FSCS
WTO World Trade Organization
Millionaire Surtax Drop Dropped By Obama Dems
15 BankZ On Doom_Grade Watch
foiabrief
Tyler Durden ZEROHEDGE @AnonDr_X
30 SECOND GUIDE: Operation twist
By Daily Mail Reporters UPDATED: 08:08 GMT, 20 September 2011 The Daily Mail City team explains what is the effect of operation twist on the economy as the Fed is expected to do something at its two-day meeting this week to boost growth. What's that?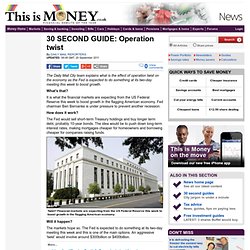 Web of Debt - Ellen Brown - 1 of 5
Quantitative Easing Explained
drug money laundering by wall street ( Max Keiser ) Afghanistan war
Outlook for Investing in Egypt; Gulf Deleveraging - Video
Update Required To play the media you will need to either update your browser to a recent version or update your Flash plugin .
Northwest Eyes Big Gains From Free Trade Agreements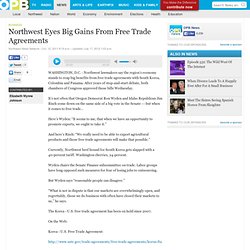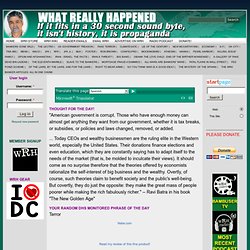 HOW YOU BECAME A SLAVE TO THE BANKERS!
By Michael Rivero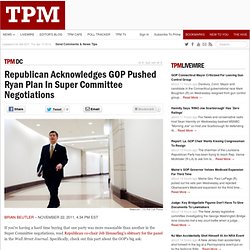 Republican Acknowledges GOP Pushed Ryan Plan In Super Committee Negotiations
If you're having a hard time buying that one party was more reasonable than another in the Super Committee negotiations, read Republican co-chair Jeb Hensarling's obituary for the panel in the Wall Street Journal. Specifically, check out this part about the GOP's big ask: Democrats on the committee made it clear that the new spending called for in the president's health law was off the table. Still, committee Republicans offered to negotiate a plan on the other two health-care entitlements--Medicare and Medicaid--based upon the reforms included in the budget the House passed earlier this year....Republicans on the committee also offered to negotiate a plan based on the bipartisan "Protect Medicare Act" authored by Alice Rivlin, one of President Bill Clinton's budget directors, and Pete Domenici, a former Republican senator from New Mexico.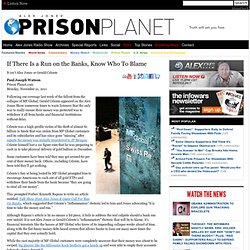 If There Is a Run on the Banks, Know Who To Blame
It isn't Alex Jones or Gerald Celente Paul Joseph Watson Prison Planet.com Monday, November 21, 2011 Following our coverage last week of the fallout from the collapse of MF Global, Gerald Celente appeared on the Alex Jones Show numerous times to warn listeners that the only way to really ensure their money was protected was to withdraw it all from banks and financial institutions without delay.
Debit Card Charges - Monetos.co.uk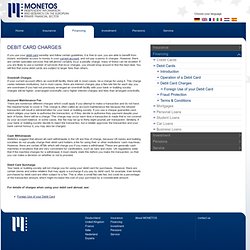 If you use your debit card sensibly and follow certain guidelines, it is free to use; you are able to benefit from instant, worldwide access to money in your current account, and not pay a penny in charges. However, there are certain specialist services that will almost certainly incur a penalty charge: many of these can be avoided.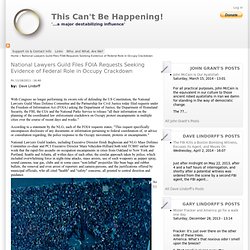 With Congress no longer performing its sworn role of defending the US Constitution, the National Lawyers Guild Mass Defense Committee and the Partnership for Civil Justice today filed requests under the Freedom of Information Act (FOIA) asking the Department of Justice, the Department of Homeland Security, the FBI, the CIA and the National Parks Service to release "all their information on the planning of the coordinated law enforcement crackdown on Occupy protest encampments in multiple cities over the course of recent days and weeks." According to a statement by the NLG, each of the FOIA requests states, "This request specifically encompasses disclosure of any documents or information pertaining to federal coordination of, or advice or consultation regarding, the police response to the Occupy movement, protests or encampments."
National Lawyers Guild Files FOIA Requests Seeking Evidence of Federal Role in Occupy Crackdown
World business, finance, and political news from the Financial Times
"If they wanted to end deflation they should stop fixating on the CPI and allow market forces to eliminate the zombies which are the true source of deflation in Japan.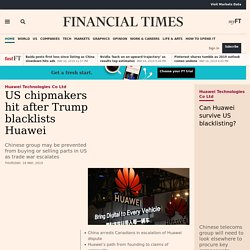 Russell Simmons Calls for Constitutional Amendment to Get Money Out of Politics
Finally, a Judge Stands up to Wall Street | Matt Taibbi | Rolling Stone
Foreign aid to zero - Ben Smith
November 12, 2011
Smash and grab: Bilderberg and the Trilateral Commission snatch Greece and Italy
By Richard CottrellEnd the Lie Events in Greece and Italy are truly momentous. They represent a glorious triumph for the New World Order, which is now free to trample democracy wherever and whenever the mandarins who now rule over us feel like it.
Futures Up Ahead of Consumer Sentiment
NEW YORK (TheStreet) -- U.S. stock futures extended gains after Italy moved one step closer to adopting austerity measures needed for Prime Minister Silvio Berlusconi to resign and pave the way for a new government. Futures for the Dow Jones Industrial Average were up 89 points, or 91 points above fair value, at 11,944.
How US Banks Are Lying About Their European Exposure; Or How Bilateral Netting Ends With A Bang, Not A Whimper
A little over a month ago, Zero Hedge started an avalanche in the financial sector, and an unprecedented defense thereof by the "independent" financial media and conflicted sell side, by being simply the messenger in pointing out that the gross exposure of one Morgan Stanley to the French banking sector is $39 billion.
#1: "If a girl doesn't respond to my texts immediately, I lose interest." #2: "I don't even have time to meet girls." #1: "People that post photos of a 1st class seat or an empty bottle of Petrus on Facebook should die." And: #1: "Getting laid off from Goldman is like being traded by the Yankees. You'll probably still make millions, but it's just not the same."
Goldman Sachs elevator gossip tweets – inside job or wind-up? | Joris Luyendijk | Comment is free
Credit unions pounce after banks raise fees
Goldman Summarizes The "Frightful Week Ahead"
Bloomberg To Host Sunday Dinner To Urge Super Committee To Cut $4 Trillion, Let The 99% Eat Cake
S&P 500 Extends Biggest Monthly Rally Since 1974 on Europe Deal
Director's Blog » Blog Archive » Trends in the Distribution of Income
Throw Back WeAreChange confronts Alan Greenspan
Adbusters Calls For Occupy Wall Street To Demand G20 Impose 'Robin Hood' Tax
HERP : Calculated Risk: A few comments on the HARP Refinance Program changes
Recovery before Reform - Robert Skidelsky - Project Syndicate
How Much Do You Think I Deserve To Keep? | Personal Liberty Digest
My Blog
Barclays Says Italy Is Finished: "Mathematically Beyond Point Of No Return"
EU and IMF 'to monitor Italian reforms' - Europe
Who Rules America: Wealth, Income, and Power
Market Report - Nov. 4, 2011 - CNNMoney
giac
Bank Of America Layoffs: Rival Banks Say They're Being Flooded With BofA Resumes