IMMIGRATION US BORDER PATROL
United States Border Patrol - Wiki
The United States Border Patrol (USBP) is an American federal law enforcement agency. Its mission is to detect and prevent illegal aliens, terrorists and terrorist weapons from entering the United States, and prevent illegal trafficking of people and contraband.[1] It is an agency within the U.S. Customs and Border Protection (CBP), a component of the Department of Homeland Security (DHS).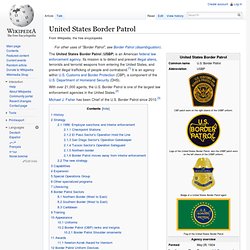 CBP.gov - home page
American Border Patrol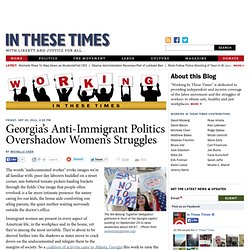 The words "undocumented worker" evoke images we're all familiar with: poor day laborers huddled on a street corner, sun-battered tomato pickers hauling buckets through the fields. One image that people often overlook is a far more intimate presence: the nanny caring for our kids, the home aide comforting our ailing parents, the quiet mother waiting nervously outside the doctor's office. Immigrant women are present in every aspect of American life, in the workplace and in the home, yet they're among the most invisible. They're about to be shoved further into the shadows as states move to crack down on the undocumented and relegate them to the margins of society. So a coalition of activists came to Atlanta, Georgia this week to raise the visibility of immigrant women as workers and community members, as the state moves toward policies that could give the police unprecedented powers to profile, arrest and detain immigrants arbitrarily.
Georgia's Anti-Immigrant Politics Overshadow Women's Struggles - Working In These Times