FRANCE
Did the French Govt. Ask Twitter to Suspend Satirical Accounts? The morning after French President Nicolas Sarkozy announced he will run for a second term, several parodic Twitter accounts have mysteriously been suspended.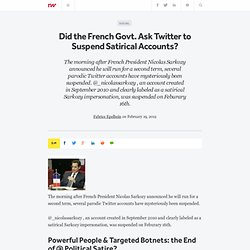 @_nicolassarkozy , an account created in September 2010 and clearly labeled as a satirical Sarkozy impersonation, was suspended on Feburary 16th. Powerful People & Targeted Botnets: the End of @ Political Satire? @_nicolassarkozy was managed by Kaboul.fr, a French political and satirical online webzine, that holds many other satirical Twitter accounts, like @_Carla_Bruni, Sarkozy's wife, @_Jacques_Chirac, the former french president, and @FrancoisHolland, Sarkozy's main competitor in the ongoing presidential race.
Oyster Herpes In France
Turkey calls on France to halt genocide bill - Europe. Turkey has piled pressure on France to drop a proposed law making it illegal to deny that Turkey's Armenian population suffered a genocide, warning its adoption will spark a diplomatic crisis and have economic consequences.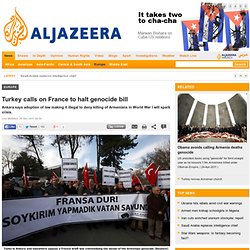 The French parliament is to debate the bill on Thursday, which would see anyone in France who publicly denies a genocide face a year in jail and a fine of $58,000. Parliament is expected to approve the bill. Armenia says up to 1.5 million of its people were killed during World War I by the forces of Turkey's former Ottoman Empire, a figure Ankara disputes. As a delegation of Turkish legislators and businessmen met officials in Paris on Tuesday, Abdullah Gul, Turkey's president, urged France to drop the bill. National Institute of Statistics and Economic Studies - France. France Lashes out at S&P's 'Shocking' Error.
FRENCH HEALTH AUTHORITIES
SOS RACISME .org | Touche pas à mon pote ! NUCL34R W4TCH. FRANCE NUKES. Marcoule - Wiki. Marcoule Nuclear Site (French: Site nucléaire de Marcoule) is a nuclear plant in the Chusclan and Codolet communes, near Bagnols-sur-Cèze in the Gard department of France, which is in the touristic, wine and agricultural Côtes-du-Rhône region.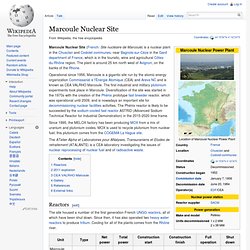 The plant is around 25 km north west of Avignon, on the banks of the Rhone. Operational since 1956, Marcoule is a gigantic site run by the atomic energy organization Commissariat à l'Énergie Atomique (CEA) and Areva NC and is known as CEA VALRHO Marcoule. The first industrial and military plutonium experiments took place in Marcoule. Diversification of the site was started in the 1970s with the creation of the Phénix prototype fast breeder reactor, which was operational until 2009, and is nowadays an important site for decommissioning nuclear facilities activities. Commissariat à l'énergie atomique. Former logo of CEA The Commissariat à l'énergie atomique et aux énergies alternatives (English: Atomic Energy and Alternative Energies Commission) or CEA, is a French "public establishment related to industrial and commercial activities" whose mission is to develop all applications of nuclear power, both civilian and military.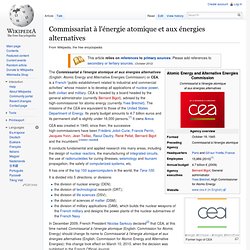 CEA is headed by a board headed by the general administrator (currently Bernard Bigot), advised by the high-commissioner for atomic energy (currently Yves Bréchet). The missions of the CEA are equivalent to those of the United States Department of Energy. France Nuclear Leak. France mox nuclear" Nuclear Power in France | French Nuclear Energy. (Updated February 2014) France derives over 75% of its electricity from nuclear energy.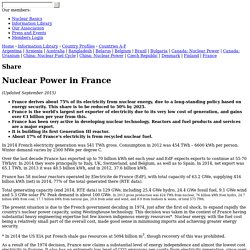 This is due to a long-standing policy based on energy security.France is the world's largest net exporter of electricity due to its very low cost of generation, and gains over EUR 3 billion per year from this.France has been very active in developing nuclear technology. Reactors and fuel products and services are a major export.It is building its first Generation III reactor.About 17% of France's electricity is from recycled nuclear fuel. France and weapons of mass destruction. France did not sign the Partial Test Ban Treaty, which gave it the option to conduct further nuclear tests until it signed and ratified the Comprehensive Test Ban Treaty in 1996 and 1998 respectively.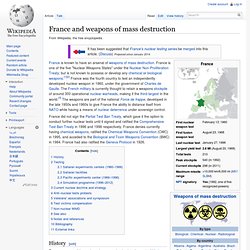 France denies currently having chemical weapons, ratified the Chemical Weapons Convention (CWC) in 1995, and acceded to the Biological and Toxin Weapons Convention (BWC) in 1984. France had also ratified the Geneva Protocol in 1926. History[edit] France was one of the nuclear pioneers, going back to the work of Marie Skłodowska Curie.
ALAIN JUPPE
---