Capital InvestmentZ
IronFire Eric Jackson
Comcast Ventures. Y Combinator. MSCI. Ram Research. Islamic Finance. Global Real estate. Lerer Ventures : Thrillist. Gust New York Angel. National Venture Capital Association. Colony Capital Management. NVCA. Venture capital. In addition to angel investing and other seed funding options, venture capital is attractive for new companies with limited operating history that are too small to raise capital in the public markets and have not reached the point where they are able to secure a bank loan or complete a debt offering.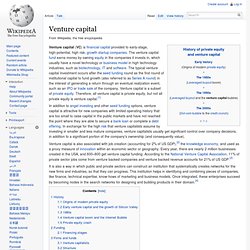 In exchange for the high risk that venture capitalists assume by investing in smaller and less mature companies, venture capitalists usually get significant control over company decisions, in addition to a significant portion of the company's ownership (and consequently value). Venture capital is also associated with job creation (accounting for 2% of US GDP),[2] the knowledge economy, and used as a proxy measure of innovation within an economic sector or geography.
Private equity - Wiki. A private equity investment will generally be made by a private equity firm, a venture capital firm or an angel investor.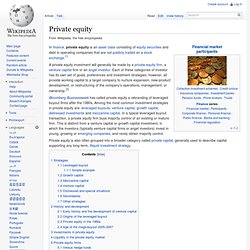 Each of these categories of investor has its own set of goals, preferences and investment strategies; however, all provide working capital to a target company to nurture expansion, new-product development, or restructuring of the company's operations, management, or ownership.[2] Bloomberg Businessweek has called private equity a rebranding of leveraged buyout firms after the 1980s. Among the most common investment strategies in private equity are: leveraged buyouts, venture capital, growth capital, distressed investments and mezzanine capital.
In a typical leveraged buyout transaction, a private equity firm buys majority control of an existing or mature firm. List of private equity firms. The following are several lists of notable private equity firms based on criteria laid out in each list.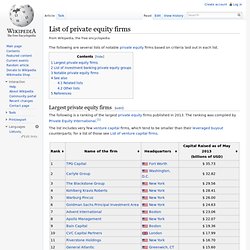 Largest private equity firms[edit] The following is a ranking of the largest private equity firms published in 2013. The ranking was compiled by Private Equity International.[1] Private equity secondary market - Wiki. In finance, the private equity secondary market (also often called private equity secondaries or secondaries) refers to the buying and selling of pre-existing investor commitments to private equity and other alternative investment funds.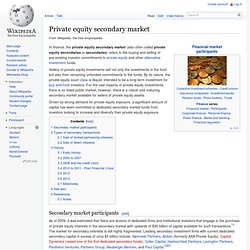 Sellers of private equity investments sell not only the investments in the fund but also their remaining unfunded commitments to the funds. By its nature, the private equity asset class is illiquid, intended to be a long-term investment for buy-and-hold investors. For the vast majority of private equity investments, there is no listed public market; however, there is a robust and maturing secondary market available for sellers of private equity assets. Driven by strong demand for private equity exposure, a significant amount of capital has been committed to dedicated secondary market funds from investors looking to increase and diversify their private equity exposure.
RAMIUS
Lions Gate VampZ. Medalion Financial Corp.
---