Games
Services. App Development Mobile applications can bring new life to your marketing efforts.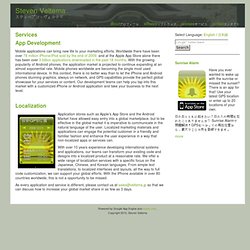 Worldwide there have been over 78 million iPhone/iPod sold by the end of 2009, and at the Apple App Store alone there has been over 3 billion applications downloaded in the past 18 months. Friday Cocktails: I Love a Parade. Enlarge Credit: Todd Coleman The French sure know how to throw a party.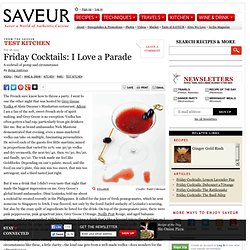 I went to one the other night that was hosted by Grey Goose Vodka at Alain Ducasse's Manhattan restaurant, Adour. I am a fan of the soft, sweet French style of spirit making, and Grey Goose is no exception. Vodka has often gotten a bad rap, particularly from gin drinkers like me. But as brand ambassador Nick Mautone demonstrated that evening, even a mass-marketed vodka can take on multiple, fascinating personalities. He served each of the guests five little martinis, mixed in proportions that varied by 10%: one 50/50 vodka and dry vermouth, the next 60/40, then 70/30, 80/20, and finally, 90/10. Spice Hunting: Sesame Seeds and Oil. [Photographs: Max Falkowitz] Though I may be pushing the bounds of this column, I can't help but write about black sesame, either the seeds or the oil made from them.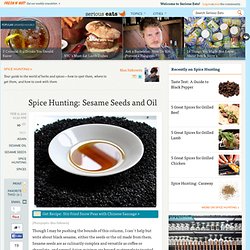 Sesame seeds are as culinarily complex and versatile as coffee or chocolate, and several Asian cuisines are bound as strongly to toasted sesame oil as Mediterranean cooking is to olive. BoardGameGeek | Gaming Unplugged Since 2000.
---