August '11
Get flash to fully experience Pearltrees
Given enough time, a hypothetical monkey typing at random would, as part of its output, almost surely produce all of Shakespeare's plays. The infinite monkey theorem states that a monkey hitting keys at random on a typewriter keyboard for an infinite amount of time will almost surely type a given text, such as the complete works of William Shakespeare .
We like to feel superior to the people who lived centuries ago, what with their shitty mud huts and curing colds by drilling a hole in their skulls. But we have to give them credit: They left behind some artifacts that have left the smartest of modern scientists scratching their heads.
By Glenys Roberts UPDATED: 00:45 GMT, 26 September 2009
March 20, 2013, Word of the Day POLICEMEN in Hyderabadi. Literal meaning is BED BUG.
Aaron Swartz, the 24-year-old wunderkind who co-authored the RSS specification at age 14 and sold his stake in Reddit to Condé Nast (which also owns Ars Technica) before his 20th birthday, was arrested Tuesday on charges of wire fraud, computer fraud, "unlawfully obtaining information from," and "recklessly damaging" a "protected computer." He is accused of downloading 4.8 million documents from the academic archive JSTOR , in violation of its terms of use, and of evading MIT's efforts to stop him from doing so. Swartz is a founder of the advocacy organization Demand Progress.
The Jeff Foxworthy Estate This mess of tacky trailer homes isn't a Photoshop, but it's not a living complex either.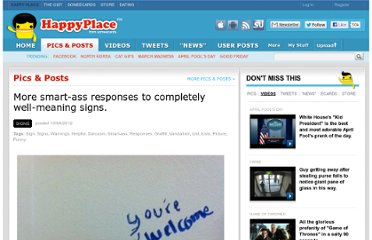 More smart-ass responses to completely well-meaning signs.
Matte World Digital produces seamless and realistic visual effects that are an integral part of the director's vision. Our reputation for affordable, high-quality visual effects is unprecedented.
Rendezvous with Rama is a novel by Arthur C.