Tablettes
Labs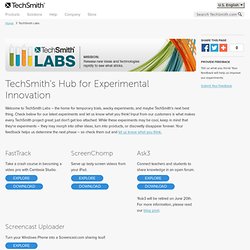 Welcome to TechSmith Labs – the home for temporary trials, wacky experiments, and maybe TechSmith's next best thing. Check below for our latest experiments and let us know what you think! Input from our customers is what makes every TechSmith project great; just don't get too attached.
Un iPad dans le sac d'école | Le téléjournal 18 h
Des Ipad aux élèves du primaire et du secondaire dans une école de Sorel-Tracy.Le directeur de la Commission scolaire nous explique son projet.
Download this gallery (ZIP, null KB) Download full size (107 KB) Nombreuses sont les questions et besoins de conseils qui pointent le bout de leur nez sur mon compte Twitter à propos de l'iPad. Je vous propose ce modeste guide. Il repose sur mon utilisation quotidienne. Il pourra évoluer en fonction de vos besoins ou de vos commentaires : n'hésitez pas à poster ici même des commentaires ou via Twitter! mon_ipad_Document_johannefinal
Présentation : tablettes numériques
La Tablette Numérique à l'Ecole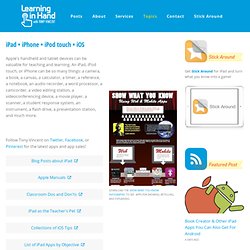 Apple's handheld and tablet devices can be valuable for teaching and learning. An iPad, iPod touch, or iPhone can be so many things: a camera, a book, a canvas, a calculator, a timer, a reference, a notebook, an audio recorder, a word processor, a camcorder, a video editing station, a videoconferencing device, a movie player, a scanner, a student response system, an instrument, a flash drive, a presentation station, and much more.