Moodle
Moodle is an online , open source, and interactive teaching and learning environment that enables educators worldwide to use technology in their classrooms. Educators use several labels to refer to Moodle, either as Open Source Course Management System ( CMS ), or Learning Management System ( LMS ), or Virtual Learning Environment. Moodle has attracted a huge attention in the recent years and it became very popular among teachers all around the world as a tool for creating online dynamic web sites for their students. Moodle can be used to :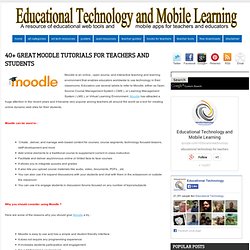 40+ Great Moodle Tutorials for Teachers and Students ~ Educational Technology and Mobile Learning
view
Les astuces sont publiées hebdomadairement par l'infolettre ProfwebExpresso et sont hébergées sur le site "Le monde en images" du CCDMD. Voici ci-dessous la liste chronologique des astuces publiées: Différents rapports permettent à l'enseignant de voir quelles ressources ou activités sont consultées et qui fait quoi dans son cours. C'est le titre d'un fil de discussion lancé par Émilie Bouvrand dans le forum francophone de la communauté Moodle. C'est en cherchant l'inspiration que je suis tombé sur cet échange, qui vaut bien une vidéo: Comment ne faire afficher qu'une seule section dans son cours (et comment revenir à l'affichage par défaut).
Make your Moodle courses load faster without fiddling with the server Whenever I am asked what do to make a Moodle site faster, I always end up talking about tweaking the server. Often I miss the point as a significant amount of Moodle sites are hosted on servers that cannot be tweaked (e.g.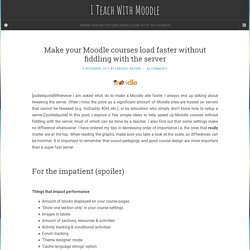 Make your Moodle courses faster without fiddling with the server
PoodLL
PoodLL is a set of plugins for Moodle, that add amazing functionality. While it is designed for language learning courses, it is being used in countless imaginative ways in universities, schools and organisations all over the world. PoodLL is free and open source. Record Audio Record audio direct to MP3 anywhere in Moodle.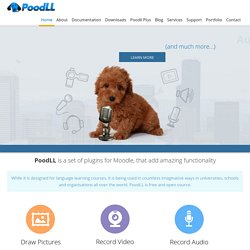 Environnement numérique ...
Journée d'étude, GTN-Québec, 2011-11-29.Réflexions sur les résultats d'un inventaire des environnements numériques d'apprentissage (ENA) en usage au Québec. Mots-clés Informations techniques Taille du fichier : 44 Ko Nombre de page(s) : 0 Type de fichier : video/quicktime Nom du fichier : Environnementnumeriquedapprentissag.mov Durée : 00:13:12.25 Dimension : 1280x720 [PAR 1:1 DAR 16:9] Ratio : 1280 x 720 Images par seconde (approx.) : 30 Taux d'échantillonnage vidéo : 4568 Ko/s Taux d'échantillonnage audio : 83 Ko/s Fréquence audio : 44100 Hz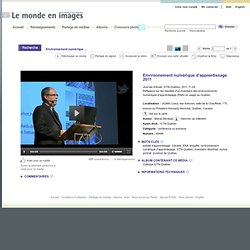 The eXe project developed a freely available Open Source authoring application to assist teachers and academics in the publishing of web content without the need to become proficient in HTML or XML markup. Resources authored in eXe can be exported in IMS Content Package, SCORM 1.2, or IMS Common Cartridge formats or as simple self-contained web pages. eXe grew out of the New Zealand Government Tertiary Education Commission's eCollaboration Fund and was led by the University of Auckland, The Auckland University of Technology, and Tairawhiti Polytechnic. It was later supported by CORE Education, a New Zealand-based not-for-profit educational research and development organisation. It has also been greatly assisted by a global group of participants and contributors.
Guide des outils Moodle pour enseignants | Si loin Si proche