Moodle
Get flash to fully experience Pearltrees
Moodle is an online , open source, and interactive teaching and learning environment that enables educators worldwide to use technology in their classrooms.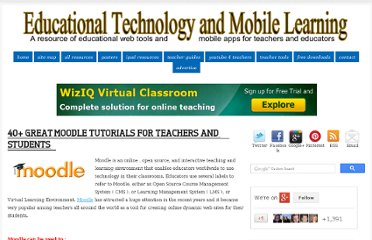 Différents rapports permettent à l'enseignant de voir quelles ressources ou activités sont consultées et qui fait quoi dans son cours. C'est le titre d'un fil de discussion lancé par Émilie Bouvrand dans le forum francophone de la communauté Moodle.
Make your Moodle courses load faster without fiddling with the server Whenever I am asked what do to make a Moodle site faster, I always end up talking about tweaking the server. Often I miss the point as a significant amount of Moodle sites are hosted on servers that cannot be tweaked (e.g.
Journée d'étude, GTN-Québec, 2011-11-29.