Projects
Search results. About JISC. 6 Free Online Interactive White Boards. An update to last April's post about free web-based IWBs.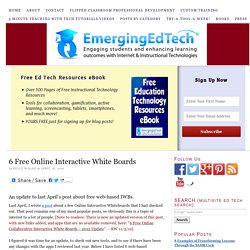 Last April, I wrote a post about a few Online Interactive Whiteboards that I had checked out. That post remains one of my most popular posts, so obviously this is a topic of interest to a lot of people. [Note to readers: There is now an updated version of this post, with new links added, and apps that are no available removed, here: "6 Free Online Collaborative Interactive White Boards – 2012 Update". - KW 11/5/12] Página de interesse sobre elearning de Luis Manuel Borges Gouveia.
Repository
eForms: Documents to download, support and notices. Published eForms Please find here the latest versions of the on-line application forms - "eForms" - that are currently published.
These eForms are linked to specific Calls and Programme Guides. TecMinho. No âmbito da estratégia da TecMinho para a promoção da formação a distância e do e-learning em Portugal, tem-se vindo a realizar e a desenvolver uma série de iniciativas que colocam a TecMinho na primeira linha de investigação do que se faz em Portugal nesta matéria, nomeadamente através de projetos transnacionais de investigação.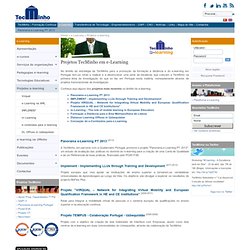 Conheça aqui alguns dos projetos mais recentes no âmbito do e-learning: Panorama e-Learning PT 2013 (2013) Videos | Simplifying Web 2.0 Education. Web 2.0 ERC | Simplifying Web 2.0 Education. Literature | Simplifying Web 2.0 Education. Elearningeuropa.info. Build A Simple E-Learning Project Plan. A successful elearning project requires good planning.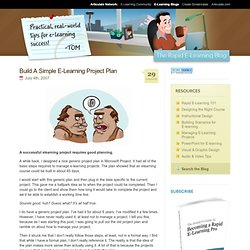 A while back, I designed a nice generic project plan in Microsoft Project. It had all of the basic steps required to manage e-learning projects. Ict2_pt.