Weed
Marijuana Strain Effects
Cheap, EASY! Water Extraction EASY BREEZY! PICS! Lots of detail any one can do this!OK Step #1 Get some frosty trich covered materials stems, leaves, buds, etc. Step #2 Get 3 5 gal buckets atleast one exceptionaly clean one(please do not use a dirty old buckets).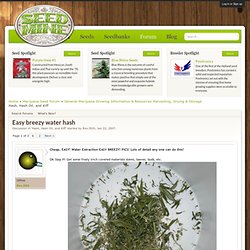 Easy breezy water hash - The Garden's Cure
iGzNu.jpg (JPEG Image, 500x375 pixels)
The Cannabis Closet: The Parents II - The Daily Dish | By Andrew Sullivan
Never Get Busted By Barry Cooper - a News & Politics video
International Cannagraphic Magazine Forums - View Single Post - HumboldtLocals Outdoor 2010
ATS Video: Troops Walking Through Pot Fields In Afghanistan
President Obama, please legalize marijuana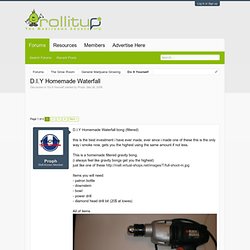 D.I.Y Homemade Waterfall bong (filtered)this is the best investment i have ever made, ever since i made one of these this is the only way i smoke now, gets you the highest using the same amount if not less. This is a homemade filtered gravity bong. (i always feel like gravity bongs get you the highest) just like one of these http://mall.virtual-shops.net/images/T/full-shoot-m.jpg Items you will need: - patron bottle - downstem - bowl - power drill - diamond head drill bit (20$ at lowes)All of items Ok so we will begin with the patron bottle, clean it out.
D.I.Y Homemade Waterfall
Marijuana is… [pic]
Marijuana (Weed) History and Facts
People around the world have been smoking marijuana for thousands of years while also using the hemp plant for everything from fabric and rope to ethanol fuel. Unfortunately, somewhere along the way, a man with a bit of power and enough determination decided pot was wicked, evil and narcotic. He moved mountains to make it illegal worldwide. In the U.S., the struggle continues to this day to overcome the lies and misconceptions about marijuana that the government spent billions to spread. Between 1937 and 1947, the government spent $220 million on the war against drugs. Between 1948 and 1963, the cost of this "war" on marijuana alone escalated to $1.5 billion.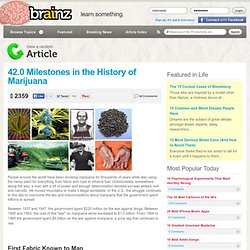 This Is Legal But Marijuana Is Not
With Cheese | Motivational Pictures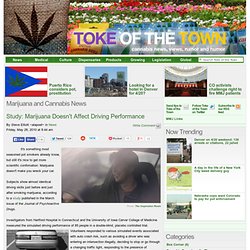 ​It's something most seasoned pot smokers already know, but still it's nice to get more scientific confirmation: Marijuana doesn't make you wreck your car. Subjects show almost identical driving skills just before and just after smoking marijuana, according to a study published in the March issue of the Journal of Psychoactive Drugs. ​Investigators from Hartford Hospital in Connecticut and the University of Iowa Carver College of Medicine measured the simulated driving performance of 85 people in a double-blind, placebo controlled trial. Volunteers responded to various simulated events associated with auto crash risk, such as avoiding a driver who was entering an intersection illegally, deciding to stop or go through a changing traffic light, responding to the presence of emergency vehicles, avoiding colliding with a dog who entered into traffic, and maintaining safe driving during a secondary (in-the-car) sound distraction.
Toke of the Town - Study: Marijuana Doesn't Affect Driving Performance
When you are high..
When you are high.. (10 votes, average: 5.00 out of 5) Loading ... Posted in Images on April 10th, 2010 by Demon | Report This Post | Add to favorites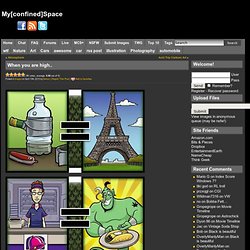 State By State Revenue From Marijuana If It Were Legal