Sports US
A change for the good? After the thriller in Bahrain, ESPN looks at whether we can expect a repeat at the Chinese Grand Prix and analyses all the off-track developments at Ferrari and Red Bull this week Golf is 'dead' without Tiger Woods? Stephen A. Smith and Skip Bayless discuss the correlation between Tiger Woods' success and golf ratings and debate if he is the most important athlete to his sport Simpson chases second cap Joe Simpson talks to Charlie Morgan about London Wasps, the most emotional moment of his life and what it's like being England's game-breaker Evergreen Hopkins still a student of the ring This Saturday in Washington Bernand Hopkins will fight in a world title fight for the 32nd time. We should all enjoy it while it lasts - even if it is ugly at times, writes Steve Bunce Klitschko dethroned? I am arguing with my friend, who thinks Vitali Klitschko is still a world champion - I thought he had retired.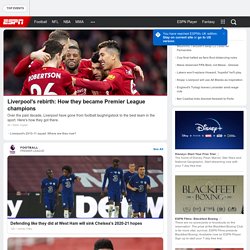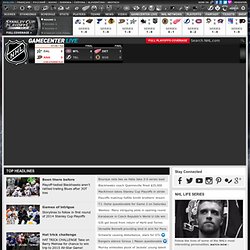 NHL.com is the official web site of the National Hockey League. NHL, the NHL Shield, the word mark and image of the Stanley Cup, Center Ice name and logo, NHL Conference logos and NHL Winter Classic name are registered trademarks and Vintage Hockey word mark and logo, Live Every Shift, Hot Off the Ice, The Game Lives Where You Do, NHL Power Play, NHL Winter Classic logo, NHL Heritage Classic name and logo, NHL Stadium Series name and logo, NHL All-Star Game logo, NHL Face-Off name and logo, NHL GameCenter, NHL GameCenter LIVE, NHL Network name and logo, NHL Mobile name and logo, NHL Radio, NHL Awards name and logo, NHL Draft name and logo, Hockey Fights Cancer, Because It's The Cup, The Biggest Assist Happens Off The Ice, NHL Green name and logo, NHL All-Access Vancouver name and logo, NHL Auctions, NHL Ice Time, Ice Time Any Time, Ice Tracker, NHL Vault, Hockey Is For Everyone, and Questions Will Become Answers are trademarks of the National Hockey League.
Hamilton Bulldogs
Being a good young baseball player right now is a little bit like going on that famous episode of Oprah: "You get a long-term deal, and you get a long-term deal, and you get a long-term deal!" On Monday, Jedd Gyorko became the latest youngster to land a big contract, signing a six-year contract with the San Diego Padres; the deal guarantees him at least $35 million and includes a team option that could push it closer to $50 million over seven seasons. The league is enjoying record profitability, and instead of chasing aging pricey free agents, teams like the Padres have chosen to take their newfound wealth and use it to keep their best young players around for six or seven prime years. These deals have historically been big winners for MLB teams, as they've traded on young players' desire for financial security to hold down salaries for future superstars like Evan Longoria, Andrew McCutchen, Paul Goldschmidt, Chris Sale, and many others.