Mike's Tree
School isn't for everyone. There are just too many required classes that you must take in order to get to the stuff you actually want to learn. Plus the whole homework and testing system… I'll just stop there. There are tons of ways to educate yourself quickly and for much less money than with a college education. Skip the Writing 101 class, save yourself $200,000 and try out some of these handy methods if you're looking for some post-high school knowledge: Online Courses/Lectures – Too attached to the university system to totally let go of collegiate-style education?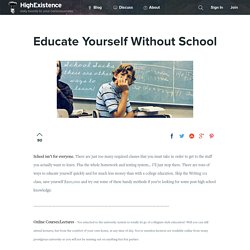 Minority Job Search Engine offers Diversity Jobs and Career Opportunities in the Workplace
5 Career Limiting Things Introverts Do to Sabotage Their Career and How to Avoid Them [WEBINAR] By Dorothy Tannahill-Moran Do you want more for your career? Not sure why you're not there now? Got passed over for a promotion?
Career Rocketeer - Career Search and Personal Branding Blog