Media_Production
Flash applets on some technical aspects of photography
Thin Lens Uses Gauss's ray tracing construction to show how thin lenses perform a 3D perspective transformation of object space into image space. Depth of Field How do focal length, subject distance, F-number, and size of the circle of confusion affect depth of field?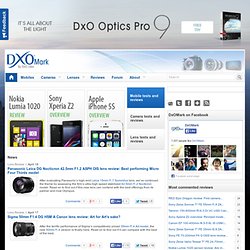 Continuing our series of evaluation of lens systems we've assessed a modest range of Pentax and third-party lenses for their optical quality on the firm's new flagship Pentax K-3 model. As the replacement for the K-5 II and K-5 IIs, the Pentax K-3 has a new higher pixel density 24-Mpix sensor without an AA filter, and is a promising platform for lens evaluation. Read on to find out which models perform best, and which, if any, that should be avoided.
Icon Search Engine | Iconfinder
It has been a big week for independent films — especially for independent, crowdfunded films. Not only is 10% of this year's Sundance slate made up of Kickstarter-funded films, but Vimeo made an announcement at the festival yesterday that they're launching a program specifically for films that have raised funds through crowdfunding platforms, offering $500K in support for marketing. Continue on for more info.