OGM
This article is freely available re-usable Article 1 Agri-Food and Agri-Environmental Economics Group, ETH Zürich, Sonneggstrasse 33, 8092 Zürich, Switzerland 2 Ecologic Institute, Pfalzburger Strasse 43/44, 10717 Berlin, Germany 3 School of Human and Environmental Sciences, University of Reading, Whiteknights, P.O. Box 227, Reading, RG6 6AB, UK 4 Centre for Environmental Strategy, University of Surrey, Guildford, GU2 7XH, UK
Sustainability 2011, 3(5), 743-762; A Meta Analysis on Farm-Level Costs and Benefits of GM Crops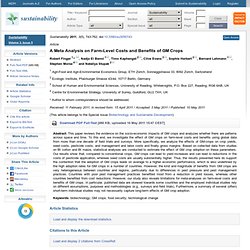 Forum Genforschung - Akademie der Naturwissenschaften Schweiz SCNAT - Home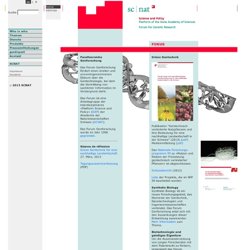 Facettenreiche Genforschung Das Forum Genforschung fördert einen breiten und unvoreingenommenen Diskurs über die Gentechnologie, bei dem die Vermittlung von sachlicher Information im Vordergrund steht. Das Forum ist eine Arbeitsgruppe der interdisziplinären «Platform Science and Policy» ( SAP ) der Akademie der Naturwissenschaften Schweiz ( SCNAT ). Das Forum Genforschung wurde im Jahr 1996 gegründet .
Tout sur la planète OGM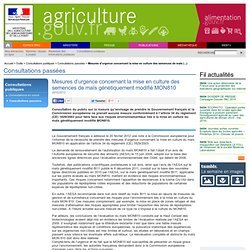 Mesures d'urgence concernant la mise en culture des semences de maïs génétiquement modifié MON810
Consultation du public sur la mesure qu'envisage de prendre le Gouvernement français si la Commission européenne ne prenait aucune mesure conformément à l'article 34 du règlement (CE) 1829/2003 pour faire face aux risques environnementaux liés à la mise en culture du maïs génétiquement modifié MON810. Le Gouvernement français a adressé le 20 février 2012 une note à la Commission européenne pour l'informer de la nécessité de prendre des mesures d'urgence concernant la mise en culture du maïs MON810 en application de l'article 34 du règlement (CE) 1829/2003. La demande de renouvellement de l'autorisation du maïs MON810 a fait l'objet d'un avis de l'Autorité européenne de sécurité des aliments (AESA) le 15 juin 2009, adopté sur la base des anciennes lignes directrices pour l'évaluation environnementale des OGM, qui datent de 2006.
GMO Pundit a.k.a. David Tribe
A previous post had shown how science-in-reverse -- putting the horse before the cart -- can lead to misleading and dangerous ideas about causes of autism. Sadly, misapplication of science is not restricted to anti-vaccine propaganda. It can easily occur in dubious areas of "alternative" medicine where there is a strong financial incentive to promote therapies that have no sound scientific basis. The Pundit calls this type of misadventure the snake oil gambit . Hom[o]eopathic medicine is perhaps the most obvious example of such an area, and companies that leverage off homeopathic remedies have to tread carefully to successfully market their research and products. One such company is Sevene pharma, in France, who promote a natural remedies approach to medicine which presses all the right buttons for those who believe that nature cures all ills.
Projets
Daniel Nahon : les sols, enjeu du XXIe siècle | TerrEthique
Voyage au Costa Rica : tout ce que je croyais ne pas aimer... Parmi mes 1001 découvertes culinaires, il en est qui me surprennent par leurs forme incroyable, leur goût exotique, leur parfum inconnu. Mais les plus grandes surprises proviennent d'aliments que je connaissais. D'aliments courants en Europe. Et plus précisément d'aliments que je croyais ne pas aimer. En tête de liste : la banane.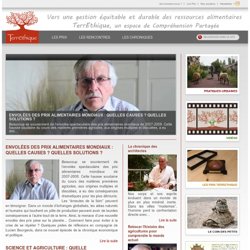 Dessin de Voutch (la peur des #OGM et sa thérapie) on Twitpic
« Sans OGM » : une réglementation ubuesque
The # ogm Daily
Cliquer ici pour éditer le corps de la page Cliquer ici pour activer l'édition des sections individuelles de cette page. Recherchez ces liens "éditer" quand ils sont disponibles.
Décibelomètre - Informations OGM Suisse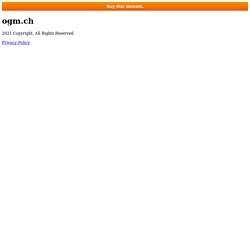 New collection of articles explores the science, application, and regulation of genetically modified insects for disease control | Speaking of Medicine
Image Credit: James Gathany, Centers for Disease Control and Prevention Author: Renata Santillan The current issue of PLoS Neglected Tropical Diseases presents a new collection of articles on the use of genetically modified (GM) insects for controlling some of the most widespread infectious diseases. Articles from across the PLoS journals describe the technological advances these tools represent, the regulatory framework, and the societal dialogue that is necessary for their wide-scale application for disease control.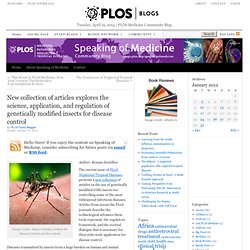 La mise en culture du maïs OGM MON 810 interdite avant les semailles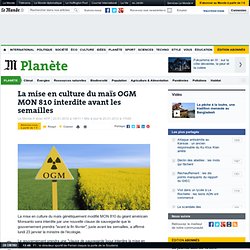 La mise en culture du maïs génétiquement modifié MON 810 du géant américain Monsanto sera interdite par une nouvelle clause de sauvegarde que le gouvernement prendra "avant la fin février" , juste avant les semailles, a affirmé lundi 23 janvier la ministre de l'écologie. Le gouvernement prendra une "clause de sauvegarde [pour interdire la mise en culture du MON 810] avant la période des semailles, mais pas trop tôt avant pour que la Commission européenne n'ait pas le temps de la remettre en cause" comme cela s'était produit pour la précédente clause, a déclaré Nathalie Kosciusko-Morizet. Selon elle, la période des semailles va commencer début mars, "donc la clause de sauvegarde sera prise avant la fin février mais cela ne sert à rien de la prendre trop tôt avant" . Le moratoire sur les cultures OGM, lancé par la France en février 2008, a été invalidé l'an dernier par la Cour européenne de justice de Luxembourg et le Conseil d'Etat.
pr_india110706_PressReleaseDharwadWorkshop
Trois requêtes de faucheurs d'OGM français, condamnés pour avoir refusé de se soumettre à un prélèvement d'ADN, ont été rejetées par la Cour européenne des droits de l'homme pour violation de la confidentialité, a-t-elle annoncé jeudi. La cour siégeant à Strasbourg a estimé que les requêtes étaient abusives : les faucheurs ont alerté la presse sur les propositions de dédommagement faites par le gouvernement afin qu'ils retirent leur plainte, alors que ces négociations sont confidentielles. Cette règle de confidentialité revêt un caractère absolu et exclut une appréciation au cas par cas de la quantité d'informations divulguées, rappelle la cour dans sa décision. Les juges estiment que les requérants et leurs avocats ont sciemment divulgué à la presse les détails de la négociation sur un éventuel règlement amiable de l'affaire.
Fauchages d'OGM et prélèvements d'ADN : trois requêtes françaises rejetées par la CEDH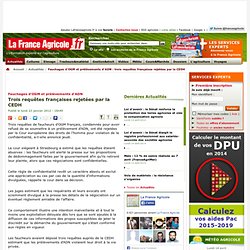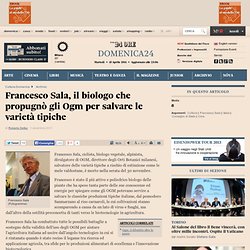 Storia dell'articolo Chiudi Questo articolo è stato pubblicato il 01 dicembre 2011 alle ore 20:04. Francesco Sala (Fotogramma) Francesco Sala, ciclista, biologo vegetale, alpinista, divulgatore di OGM, direttore degli Orti Botanici milanesi, salvatore delle varietà tipiche a rischio di estinzione come le mele valdostane, è morto nella serata del 30 novembre.
Francesco Sala, il biologo che propugnò gli Ogm per salvare le varietà tipiche
Jean-Pierre Zryd (portulan) sur Twitter
Debates: Biotechnology: Guest
Marathon OGM - Informations OGM Suisse
09.05.2012 : Point mars 2012 +++ Résistance aux pucerons : Lancement des essais en plein champ de blé transgénique en Angleterre +++ Myrtilles: Meilleure résistance au froid grâce à un gène issu d'une autre variété de myrtilles +++ Sécurité alimentaire: Pois transgéniques sous un nouveau jour +++ Chine: Interdiction du génie génétique ~ triomphe ou fausse nouvelle ? +++ 29.03.2012 : Point février 2012 +++ Statistique des cultures d'OGM : Les pays en voie de développement rattrapent les nations industrielles +++ Evolution : Les gènes franchissent naturellement les barrières entre les espèces +++ France: Tohu-bohu autour du maïs OGM +++ PNR 59 : Publication du résumé des résultats scientifiques +++
InterNutrition NEWS
OGM : environnement, santé et politique
Bienvenue sur le site du PNR 59 La modification génétique des plantes ouvre des perspectives bien plus larges que les croisements traditionnels. C'est pour cela que le commerce et l'utilisation de ces plantes sont déjà autorisés dans de nombreux pays.
PNR 59
Welcome | EPSO
Public Research and Regulation Initiative - Home
European Federation of Biotechnology
Je crois que la question de fond c'est : "est-ce que les OGM ont une utilité sociale ou pas ?" Les OGM ne proposent pas une production supérieure à l'agriculture traditionnelle. Ils proposent des plantes herbicides, ou alors des [...] Les OGM ne proposent pas une production supérieure à l'agriculture traditionnelle. Ils proposent des plantes herbicides, ou alors des plantes insecticides, c'est-à-dire des plantes qui tuent les insectes qui viennent les attaquer. On pourrait donc se poser la question pour le maïs Monsanto M810 : "a-t-on besoin de Monsanto pour augmenter la production de maïs ?"
Faut-il autoriser les cultures d'OGM en France 
Incertitudes sur les risques liés aux OGM
Génie génétique Une commission fédérale plaide pour la prudence dans l'utilisation d'organismes génétiquement modifiés. Selon elle, les risques de dissémination ne sont toujours pas clairs. Les risques d'une dissémination de plantes génétiquement modifiées ne sont toujours pas clairs, estime la Commission fédérale d'éthique pour la biotechnologie dans le domaine non-humain (CENH).
Pesticide manufacturers opposing Bt brinjal, says expert - The Times of India
Rajiv Mani, TNN Nov 30, 2011, 08.08AM IST ALLAHABAD: Opposition to introduction of Bt brinjal in the country is not backed by technical reasons. Rather it is due to the interest of chemical pesticide manufacturers, who apprehend monetary losses in the event of introduction of this genetically engineered crop, says a pioneer in the field of genetically engineered crops, Alex K Gaponenko, from the Koltzov Institute of Developmental Biology, RAS, Moscow. Professor Gaponenko, who is in the city to attend the ongoing Science Conclave at IIIT-A, told TOI that genetically engineered crop is the only viable alternative to feed the ever increasing population of the world, which traditional seeds cannot cater.
_Ethische_Anforderungen_an_Freisetzungen_F_111212
111212_Pressemitteilung_f
Illegaler Gentech-Raps auf Schweizer Bahndämmen
Des plantes transgéniques retrouvées en Suisse - tsr.ch - info - sciences-tech.
#OGM Augmentation de la production de coton (coton Bt) : aucu
Un tournant théorique pour les OGM
Matt Ridley on Genetically Modified Foods in Africa | Mind & Matter
410+ published safety assessments | GMO Pundit a.k.a. David Tribe
Quand Inf'OGM parasite la recherche scientifique pour alimenter son fonds de commerce
Maïs OGM : une clause de sauvegarde difficile à justifier
OGM ne rime plus avec cancérigène - Europe1.fr - Europe 1 sante
Maïs OGM : une clause de sauvegarde difficile à justifier
Now, desi cotton with Bt gene | Checkbiotech
Communication - Articles spécialisés
Maïs OGM: NKM promet une autre clause de sauvegarde avant les semailles
COURNOYER: End science fiction at Yale
#OGM Agriculture sans labour (no-till agriculture) en Suisse
Europe's opposition to GM crops is 'arrogant hypocrisy' | Environment | The Observer
Sustainability | Free Full-Text | A Meta Analysis on Farm-Level Costs and Benefits of GM Crops
EFSA News Story: EFSA assesses 2009 Post-Market Environmental Monitoring report for maize MON810
11.5433 - Arrivée des OGM nouveaux
China Home to World's 6th Largest GM Crop in 2010 - Economic Observer News- China business, politics, law, and social issues
African Technology Development Forum - ATDF Journal Volume 8 Issue 1 & 2, 2011 - Food Sovereignty
S0007114511005174a
Field trials with genetically modified powdery mildew-resistant wheat
Trends in Plant Science : Biofortification for combating 'hidden hunger' for iron
Suicide collectif de 1500 fermiers indiens ruinés à cause des OGM
U.S. Approves Monsanto Drought-Tolerant GM corn - Tech & Trend
Three Billion Acres of GM Crops and Counting! | Truth About Trade and Technology - Truth About Trade and Technology
Pollen-OGM-miel_MA-Hermitte_21-nov-2001
OGM/Avis : le HCB se prononce pour la culture d'un soja tolérant au glyphosate - Actualités - La France Agricole - Toute l agriculture et l actualite agricole, cours et marches cereales, ble, bovins, veaux, meteo agricole
Genetic Engineering vs. Breeding
La Chine contrôle-t-elle ses OGM? - OGM - Environnement
Food, Inc. Movie
Top five myths about genetic modification | Plant Science
Leading plant researchers call for science-based GM regulation | News from the John Innes Centre
Les petits matins
RSR.ch
the EASY way to share your documents on Twitter
Scientists eye 'windows of opportunity' for adapting food crops to climate change
Gentechnologie: ein Eingriff in die Evolution? (2/6)
NFU frustration after vote on GM - NFU Online
Peru: Production of transgenic papaya to improve
Your very own Frank N. Foode
Forbidden Fruit: Genetically Engineered crops in New Zealand : Tomorrow's Table
Perceptions on the Holistic Assessment of Next-generation GM Crops - Crop Biotech Update (4/8/2011
Biotech: Is organic GM the answer? - Ethical Corporation
Can Biotech and Organic Farmers Get Along?
Where Fashion Meets Biotech...
Significant
NCCR Plant Survival