New technology and platform development
Android topples Nokia as world's leading smartphone platform in Q4 2010. For the first time ever, shipments of Android smartphones outpaced all of the competition worldwide in the fourth quarter of 2010, including longtime champion Nokia, according to the research company Canalys.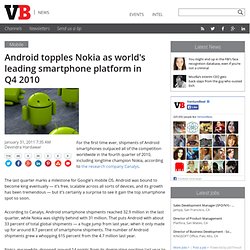 The last quarter marks a milestone for Google's mobile OS. Android was bound to become king eventually — it's free, scalable across all sorts of devices, and its growth has been tremendous — but it's certainly a surprise to see it gain the top smartphone spot so soon. According to Canalys, Android smartphone shipments reached 32.9 million in the last quarter, while Nokia was slightly behind with 31 million.
That puts Android with about 33 percent of total global shipments — a huge jump from last year, when it only made up for around 8.7 percent of smartphone shipments. The number of Android shipments grew a whopping 615 percent from the 4.7 million last year. Flipboard CEO's claim: We're not building a business "on the backs of publishers" Updated with additional comments from Flipboard's Mike McCue.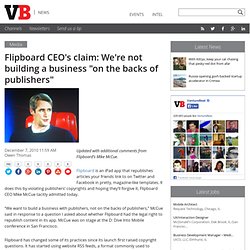 Flipboard is an iPad app that republishes articles your friends link to on Twitter and Facebook in pretty, magazine-like templates. It does this by violating publishers' copyrights and hoping they'll forgive it, Flipboard CEO Mike McCue tacitly admitted today. "We want to build a business with publishers, not on the backs of publishers," McCue said in response to a question I asked about whether Flipboard had the legal right to republish content in its app. IBM Is (Still) The Patent King in the U.S. [Video] IBM has emerged, yet again, as the United States' patent king for 2010.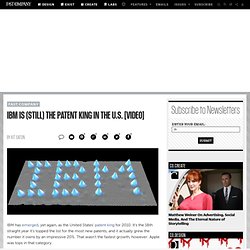 It's the 18th straight year it's topped the list for the most new patents, and it actually grew the number it owns by an impressive 20%. That wasn't the fastest growth, however: Apple was tops in that category. In its press release about the news, IBM is proud to blow its own trumpet and notes this is the 18th consecutive year it's "topped the list of the world's most inventive companies. " And while it's a bit of a stretch to equate patent awards with inventiveness (especially given the increasing controversy about the U.S. patent system, driven by excessive patent trolling), it's unquestionably impressive.
IBM also became the first company to be "granted as many as 5,000 U.S. patents in a single year," with 5,896 awarded in 2010--a stark contrast to the 50 years it took IBM's engineers to mark their first 5,000 total patents following the company's 1911 founding. ISA 2011: New and Alternative Social Platforms – Where Are the Biggest Opportunities? ISA 2011: New and Alternative Social Platforms – Where Are the Biggest Opportunities?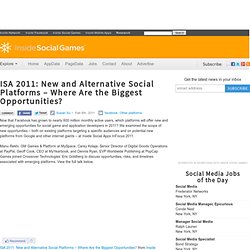 Now that Facebook has grown to nearly 600 million monthly active users, which platforms will offer new and emerging opportunities for social game and application developers in 2011? We examined the scope of new opportunities – both on existing platforms targeting a specific audiences and on potential new platforms from Google and other internet giants – at Inside Social Apps InFocus 2011. Is First to Smash the 100 Million Downloads Mark for a Single App | GetJar. One developer's take on making games about real life, News from GamePro. OpenFeint Opens Social Gaming SDK OFX To All Developers, Launches $1M Challenge. Earlier this year, AuroraFeint launched the private beta of OpenFeint X (OFX), which offers indie developers the ability to create Zynga-like free-to-play games including microtransactions and virtual goods.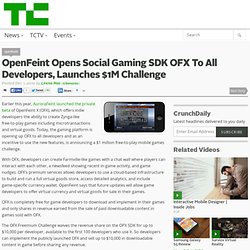 Today, the gaming platform is opening up OFX to all developers and as an incentive to use the new features, is announcing a $1 million free-to-play mobile games challenge. With OFX, developers can create Farmville-like games with a chat wall where players can interact with each other, a newsfeed showing recent in-game activity, and game nudges. OFX's premium services allows developers to use a cloud-based infrastructure to build and run a full virtual goods store, access detailed analytics, and include game-specific currency wallet. Myspace concedes to Facebook, changes focus. Myspace, once a leader in social networking before the ascendancy of Facebook, is trading its social networking focus to target the music, celebrities, movies, television, and games that Gen-Y'ers love the most.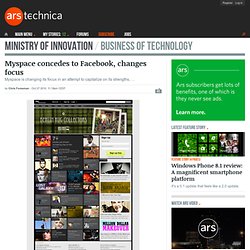 The company announced on Wednesday that it is launching a beta site that will be based on this shifted focus. "This marks the beginning of an exciting turning point for Myspace. Our new strategy expands on Myspace's existing strengths—a deep understanding of social, a wealth of entertainment content and the ability to surface emerging cultural trends in real time through our users," said Myspace CEO Mike Jones in a statement. Other platforms. R2Games reveals new details for browser MMORPG Monkey King Online Online game publisher R2Games has revealed new details for Monkey King Online, its upcoming browser-based massively multiplayer online role playing game (MMORPG).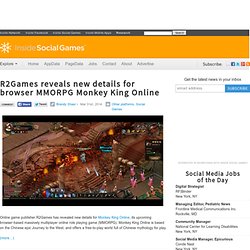 Monkey King Online is based on the Chinese epic Journey to the West, and offers a free-to-play world full of Chinese mythology for play. (more…) R2Games launches browser MMO Zombies Ate My Pizza Worldwide game publisher R2Games has announced the open beta launch of Zombies Ate My Pizza. W3i Starts a Fund to Lure Facebook Developers to iOS Gaming. It's not uncommon to hear social game developers complain that Facebook is becoming too difficult to build on, and that mobile development looks attractive as an alternative.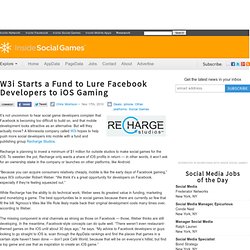 But will they actually move? A Minnesota company called W3i hopes to help push more social developers into mobile with a fund and publishing group Recharge Studios. Recharge is planning to invest a minimum of $1 million for outside studios to make social games for the iOS. To sweeten the pot, Recharge only wants a share of iOS profits in return — in other words, it won't ask for an ownership stake in the company or launches on other platforms, like Android. "Because you can acquire consumers relatively cheaply, mobile is like the early days of Facebook gaming," says W3i cofounder Robert Weber. Digital Chocolate Enters Facebook Cross-Promotion With the VIP Games Network.
Over the past six months, cross-promotion between games on Facebook has become one of the most vital tools for small developers to grow their apps.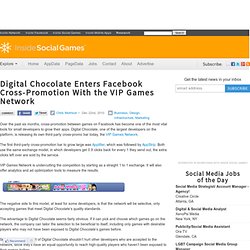 Digital Chocolate, one of the largest developers on the platform, is releasing its own third-party cross-promo bar today, the VIP Games Network. The first third-party cross-promotion bar to grow large was Applifier, which was followed by AppStrip. Both use the same exchange model, in which developers get 0.9 clicks back for every 1 they send out; the extra clicks left over are sold by the service.
Six questions to ask before starting your global app empire. Ilja Laurs is the CEO of GetJar, an operator of independent mobile app stores.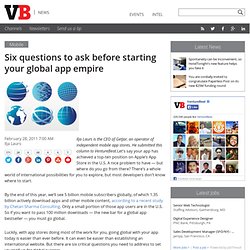 He submitted this column to VentureBeat.Let's say your app has achieved a top-ten position on Apple's App Store in the U.S. A nice problem to have — but where do you go from there? There's a whole world of international possibilities for you to explore, but most developers don't know where to start. By the end of this year, we'll see 5 billion mobile subscribers globally, of which 1.35 billion actively download apps and other mobile content, according to a recent study by Chetan Sharma Consulting. Only a small portion of those app users are in the U.S.
---