Social media development
The Secret Service Plays Video Games to Prepare for Trouble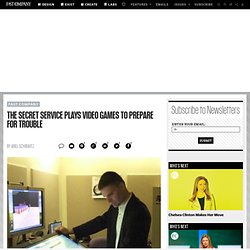 The Secret Service is scrapping the tabletop model, dubbed Tiny Town, that it has used for security training scenarios over the past 40 years. Now, instead, the agency will practice on something called the Site Security Planning Tool, a kind of "Virtual Tiny Town" that uses 3-D models, game-based virtual environments, touch interfaces, and virtual disaster response scenarios to help Secret Service members prepare for the worst.
The title of strangest WTF story of my morning is Plentyoffish CEO Markus Frind recounting how his online dating site got hacked, he and his wife were harassed and someone clumsily attempted to extort his company in the aftermath of the events.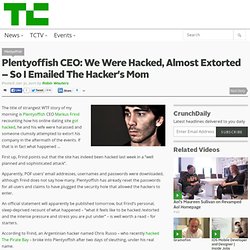 Plentyoffish CEO: We Were Hacked, Almost Extorted – So I Emailed The Hacker's Mom
Nordstrom Acquires Flash Sales Site HauteLook For $270 Million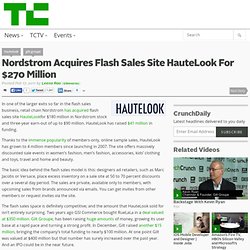 In one of the larger exits so far in the flash sales business, retail chain Nordstrom has acquired flash sales site HauteLookfor $180 million in Nordstrom stock and three-year earn-out of up to $90 million. HauteLook has raised $41 million in funding. Thanks to the immense popularity of members-only, online sample sales, HauteLook has grown to 4 million members since launching in 2007.
Can you fire someone for disparaging your company on Facebook?
(Editor's note: Curtis Smolar is a partner at Ropers Majeski Kohn & Bentley. He submitted this column to VentureBeat.)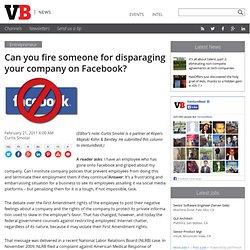 By now if you haven't heard of Klout and in a moment of vanity checked your own Klout score, you're in the online minority. Klout engenders a lot of debate about its algorithms and relevance, but regardless of opinion, the undercurrent of the conversation is that we're heading into a world of Klout whether we like it or not. More broadly, we're heading into a world of unprecedented measurability.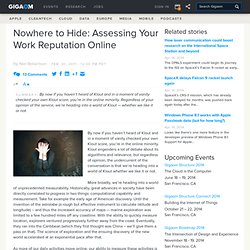 Nowhere to Hide: Assessing Your Work Reputation Online: Tech News and Analysis «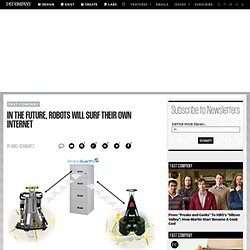 In the Future, Robots Will Surf Their Own Internet
If robots are to become our overlords, they will need their own Internet to communicate with each other. RoboEarth, a just-launched robot information sharing network, gets them that much closer to world domination.
Livestream: Debating the National Broadband Plan : Tech News and Analysis «
As the Federal Communications Commission strives to deliver broadband access to every American under the National Broadband Plan, it faces the challenge of connecting residents — and keeping them connected — at competitive rates and with competitive features in a not-so-competitive market. Today GigaOM and the New America Foundation are sponsoring a debate between Craig Settles, an author and broadband consultant, and Blair Levin, the author of the National Broadband Plan, to discuss how America can meet the broadband needs of its citizens for the current century. Please follow along in the live stream below from 10:00 a.m.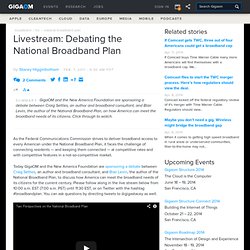 How Bradford Cross Plans to Save the Media Industry: Tech News and Analysis «
By now, it's become obvious that the web is disrupting the media business in some fundamental ways — and not just the distribution of content, but the monetization of it as well. Publishers and content producers of all kinds are desperately trying paywalls, metered access, iPad apps and pretty much anything else they can think of, while users are turning increasingly to social networks such as Twitter and Facebook for their news, as well as aggregation apps like Flipboard.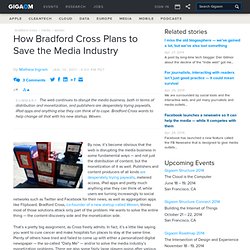 Paper.li Raises $2.1 Million For Social News Curation, Hits 2 Million Users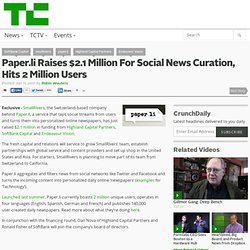 Exclusive - SmallRivers, the Switzerland-based company behind Paper.li, a service that taps social streams from users and turns them into personalized online newspapers, has just raised $2.1 million in funding from Highland Capital Partners, SoftBank Capital and Endeavour Vision. The fresh capital and relations will service to grow SmallRivers' team, establish partnerships with global service and content providers and set up shop in the United States and Asia.
Disney has acquired gaming startup Rocket Pack, a specialist in games which use HTML5, the latest version of the Web's lingua franca.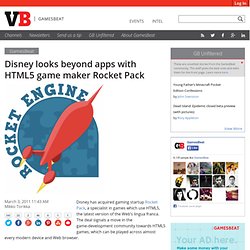 Disney looks beyond apps with HTML5 game maker Rocket Pack
[Editor's note: Guest columnist Tadhg Kelly has an in-depth review, below, covering a presentation recently given by veteran game developer Raph Koster at the Game Developers Conference happening this week in San Francisco.
Social Games vs Multiplayer Games: A Commentary on Raph Koster's Social Mechanics Presentation
Social Web browser Flock just announced that it has been acquired by social gaming giant Zynga, confirming an earlier report in TechCrunch. Chief executive Shawn Hardin wrote that the deal is a "perfect fit" and that "Flock will help Zynga in achieving their goal of building the most fun, social games available to anyone, anytime – on any platform." (Zynga has built its massive audience on Facebook, but is now trying to diversify.)
Zynga buys social browser Flock … or maybe just its engineering team
This happened just after I switched to RockMelt, and all they seem to have done is ruin one two of chrome's base principles (no tooolbars and a feeble attempt at their own extension store) and missed the main issue, i.e. the base version of chrome it runs on is way behind. by a1eksanderr Feb 13
The Future of Cities, Information, and Inclusion
State, Local Government Agencies Reach Agreement with Facebook on Legal Concerns
State and local agencies are now more enabled to use Facebook to disseminate information to the public after attorneys general from 15 states reached an agreement with the social network.
Video Credit: Neil Chambers In an excerpt from Chapter 1 of the book, Kahn compares us to "the Titanic on the night of April 14th 1912".
Climatopolis: How Our Cities Will Thrive in the Hotter Future
The internet is at the stage where it's producing some pretty incredible numbers. 294 billion – Average number of email messages per day. 1.88 billion – The number of email users worldwide. 480 million – New email users since the year before. 262 billion – The number of spam emails per day (assuming 89 percent are spam). 2.9 billion – The number of email accounts worldwide. 25 percent – Share of email accounts that are corporate. Websites 255 million – The number of websites as of December 2010. 21.4 million – Added websites in 2010.
2010: the year in internet stats
Five overhyped tech trends for 2011
Social Media Week / Event Spotlight: Startup Lab, Hosted by Augmendy
MindJolt to feed games to 110M users through deal with local web site aggregator
Gartner Forecasts Mobile App Store Revenues Will Hit $15 Billion in 2011
More Tech Tools for Egypt's Protesters: Movements.org, an Online Hub for Grassroots Activists
Technology 500: Tech industry is on an upward swing
How Social Media Is Pushing the Limits of Legal Ethics: Tech News and Analysis «
Game Design Has Become a Game
Social media case studies from JetBlue Airways, Saab, Sony Ericsson, and 10 more
How LinkedIn Today Will Change Your Social Media Life