Books and words, etc.
Buffalo buffalo Buffalo buffalo buffalo buffalo Buffalo buffalo. The sentence's meaning becomes clearer when it's understood that it uses three meanings of the word buffalo: the city of Buffalo, New York, the somewhat uncommon verb "to buffalo" (meaning "to bully or intimidate"), as well as the animal buffalo.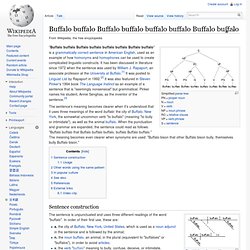 When the punctuation and grammar are expanded, the sentence could read as follows: "Buffalo buffalo that Buffalo buffalo buffalo, buffalo Buffalo buffalo. " The meaning becomes even clearer when synonyms are used: "Buffalo bison that other Buffalo bison bully, themselves bully Buffalo bison. " Date a girl who reads. Date a girl who spends her... Mental_floss Blog » The Quick 10: 10 Things You Probably Didn't Know About Harry Potter. With Harry Potter and the Half Blood Prince coming out in the U.S. later this week, it's time to out myself as a Slytherin Supporter.
Maybe you already knew that. Nothing against Gryffindors - I'm no Voldemort or anything - but I always tend to like the villains a little more than the do-gooders. To celebrate Harry and Co.' S sixth movie (and sixth book), here are a few facts that you may not have known about the gang in gold and red (and maybe a couple about the set in silver and green). 1.
---