Books and words, etc.
" Buffalo buffalo Buffalo buffalo buffalo buffalo Buffalo buffalo " is a grammatically valid sentence in American English , used as an example of how homonyms and homophones can be used to create complicated linguistic constructs. It has been discussed in literature since 1972 when the sentence was used by William J. Rapaport , an associate professor at the University at Buffalo . [ 1 ] It was posted to Linguist List by Rapaport in 1992. [ 2 ] It was also featured in Steven Pinker 's 1994 book The Language Instinct as an example of a sentence that is "seemingly nonsensical" but grammatical.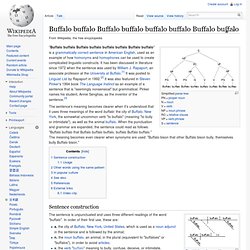 With Harry Potter and the Half Blood Prince coming out in the U.S. later this week, it's time to out myself as a Slytherin Supporter. Maybe you already knew that. Nothing against Gryffindors - I'm no Voldemort or anything - but I always tend to like the villains a little more than the do-gooders. To celebrate Harry and Co.'s sixth movie (and sixth book), here are a few facts that you may not have known about the gang in gold and red (and maybe a couple about the set in silver and green). 1.